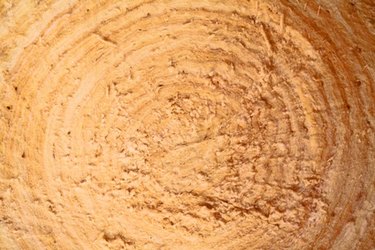 Fiberglass, mineral wool and natural wool fibers are used to construct insulating materials called rolls and batts. While each is similar in function, the design of each product affects homeowner choice.
Sizes
Both batts and rolls are pre-cut to fit snugly between wall studs, ceiling and floor joist. However, only rolls or blanket insulation provide continuous coverage because of their extended lengths.
Vapor Barriers
Both materials come with or without backing. Some manufacturers carry products with paper or plastic backing, which acts as a vapor barrier to prevent moisture from condensing.
Installation
You may find it easier to install batt insulation in attics, crawlspaces and ceilings because rolls could be awkward to work with in odd-shaped areas. Certain batts have flame-retardant backing for use in basements where the insulation may be left exposed. Roll insulation may have paper backing with edges used to secure the roll into place between wall studs.
R-Value
R-value helps determine the insulation's ability to retain heat. Both batts and rolls have a rating of 3.2, although high performance fiberglass batts and rolls offer a 3.8 rating.
Price
Prices for batt and roll insulation are about the same.
---
Tuesday Fuller began freelance writing in 2007. Her work can be found on various websites. She received an Honorable Mention Award for works submitted to the Iliad Literary Awards Program in 1999. Fuller gained on-the-job home-improvement experience, including in interior design and maintenance, by assisting independent contractors with many projects.