Pine needles have many uses, whether they are cut from the tree, freshly fallen, or dried. Pine needles are commonly used in gardening and landscaping, can be made into decorative yet practical crafts, and even have nutritional value when ingested.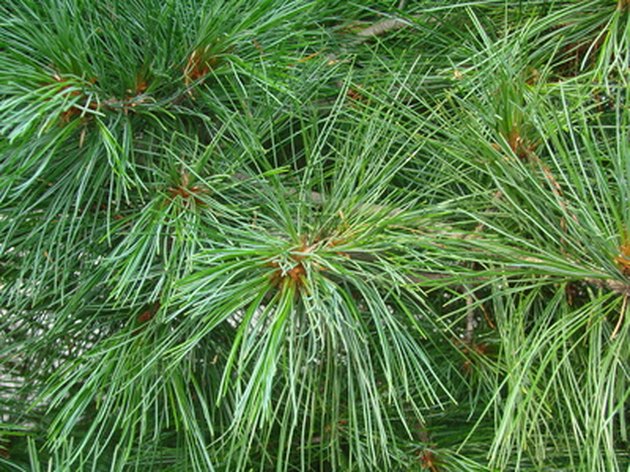 Unwanted pine needles can be added to compost. Pine needles are organic materials that break down over time, according to FineGardening.com. Rather than throwing them out after raking your yard, consider mixing them in with other discarded organic materials such as leaves, coffee grounds, fruit peels, and nut shells. Pine needles can be added to compost whole, but will break-down more quickly when ground, according to the website.
Dried pine needles can be used in landscaping, according to the North Carolina Pine Needle Producers Association (NCPNPA). Much like rocks and wood chips, pine needles can be added around trees, shrubs and flowers to cover bare dirt and increase aesthetic appeal. Pine needles used in this manner help insulate plants and preserve soil moisture, according to NCPNPA.
Pine needles can be made into practical and decorative baskets of all shapes and sizes. Pine needle basket weaving is an age-old technique, according to BestoftheHome.com. Modern pine needle weaving dates back to the American Civil War. The coiling method developed by M.J. McAfee during the war uses fibrous material such as cotton thread to bind pine needles, according to the website.
Freshly cut and newly fallen pine needles make an ingestible tea when steeped in hot water. Pine needles are high in Vitamin C and are thought to be beneficial in treating respiratory and sinus symptoms such as cough, nasal congestion, and sore throat, according to the Practical Survivor website. The site suggests simmering pine needles in water for 15 to 20 minutes or pouring boiling water over needles and soaking for 10 minutes. The tea should be strained from the needles before drinking. Adding sugar to taste will sweeten the beverage.