Polyester-blend sheets have some advantages over 100 percent cotton sheets. They are wrinkle-resistant. (If sleeping on wrinkles bothers you, you'll appreciate this feature.) They are easier to fold because they crease nicely. And they can cost less than cotton sheets, according to Australian website interiorfocus.com.au. But polyester-blend sheets can also lack cotton's softness. Curling up between polyester-blend sheets may not have the snuggly feel that cotton offers. If you like the feel of cotton but the cost and look of polyester blend, you can take some steps to soften those sheets.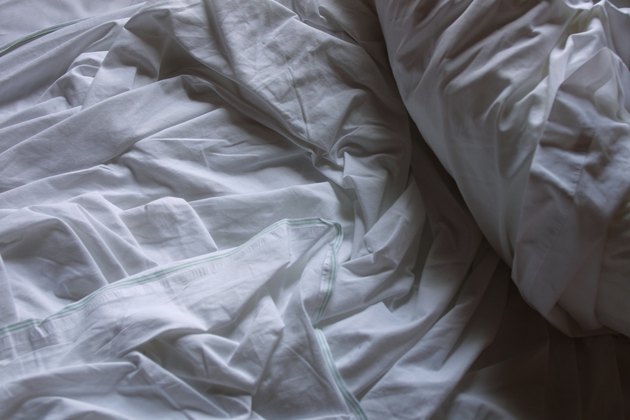 credit:
Jupiterimages/Photos.com/Getty Images
Step 1
Launder brand-new sheets before you use them. Use the permanent press setting on your washer.
This will remove any excess dye that's left in the polyester blend during manufacturing, according to the Kohl's Department Store website, kohlscorporation.com. The darker the sheets, the more dye there will be.
Step 2
Use liquid fabric softener during the rinse cycle. The liquid type works better than fabric sheets because it permeates the fabric. It will help break down the fibers in the polyester blend and soften them.
Step 3
Toss the sheets in a clothes dryer. Use the permanent press setting. The warm heat, in conjunction with the tumbling action, will help soften the material. If you hang the sheets up to dry on a clothesline, they will remain stiff longer.