Things You'll Need
Disinfectant

Cloth for cleaning

Cinnamon oil

Cotton balls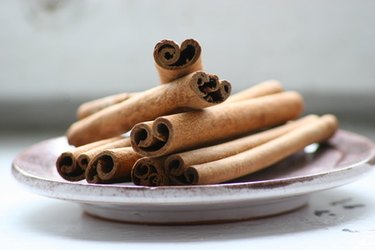 Mice are a common annoyance at households and apartments, and always seem to be able to find a way through cracks and crevices. Sometimes it can be hard to even detect a mouse problem, since mice are nocturnal and usually scamper around at night. One way to detect mice is to look for their droppings in places where they may have access to food or crumbs. A natural way of getting rid of mice is to use 100-percent cinnamon oil, which mice don't like.
Step 1
Wipe your cupboards and drawers clean with a disinfectant, or anywhere else you have found mouse droppings. This will help clear away any scents and remove bacteria left by the mice.
Step 2
Soak a cotton ball with 100-percent pure cinnamon oil. Place these cotton balls wherever you found mouse droppings or have seen a mouse hole.
Step 3
Place additional soaked cotton balls near pipe and drain entrances, under the stove and refrigerator, as well as cracks near doors and windows to cover all the entrances mice may find.
Step 4
Replace the cinnamon oil soaked cotton balls every three weeks, or as soon as you can't smell the cinnamon any longer.
---
Lauren Wise has more than eight years' experience as a writer, editor, copywriter and columnist. She specializes in food, wine, music and pop culture. Her writing has appeared in various magazines, including "Runway," "A2Z," "Scottsdale Luxury Living" and "True West." Wise holds a Bachelor of Arts in journalism from Arizona State University.