We have all had to use a portable toilet at one time or another. Whether we were at a public place such as a carnival or had our home or business under construction, portable toilets are handy to have around when traditional plumbing is not available. They come in a variety of prices and configurations, so whatever your personal needs are, there is sure to be an option perfect for you.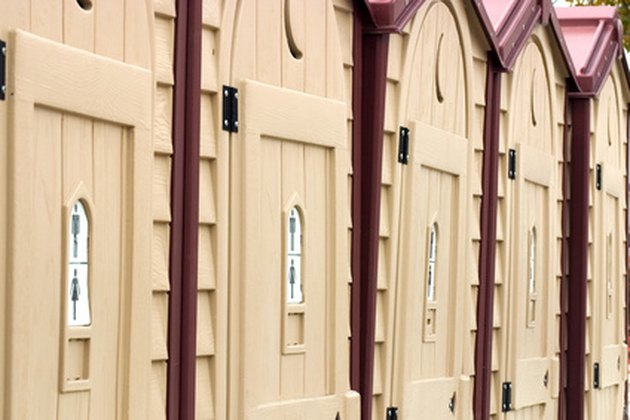 The main function of a portable toilet is to provide bathroom facilities in what is often an outdoor location. They are used commonly for events where large groups of people congregate--such as concerts, fairs and festivals--and also are quite popular for people hosting large parties at their home. Instead of having a hundred people trample through your house and into your bathroom, you can simply rent a portable toilet and avoid the hassle of long lines to use your restroom.
A wide variety of portable toilets are available for rent or purchase. A standard unit generally does not flush and has few, if any, amenities. A step-up model, sometimes called an enhanced unit, will have a toilet that flushes and usually contains a sink, light source and mirror. The best models, often called deluxe portable toilets, are larger than other models and more closely mimic traditional bathrooms. Another common model is the wheelchair accessible portable toilet, which provides easy access for people in wheelchairs.
The cost of a portable toilet varies depending on the quality of the model, the number of units you order, how long you will need them, and where they are being delivered to. Usually, the more units you order, the less expensive it will be per unit. You also will receive better rates the longer you rent each unit.
In general, you can expect to pay about $200 per month for a small, "construction site" quality model. For step up models used for one-day special occasions, prices range from $100-$200 per unit. One-day rentals for the best models can cost anywhere from $300 to $1,500 a day, depending on the size and amenities offered.
The biggest benefit of a portable toilet rental service is it gives people access to restrooms they might not have otherwise. Whether your house or business is having plumbing problems or you need more bathroom facilities for a special event, portable toilets can be a lifesaver. It can save money in a business environment. By providing cheap bathroom facilities close to workers--such as in a construction site--it allows employees to go to the bathroom and return to work quickly.
Determine how many people will be using the portable toilets and how long the toilets will be needed. A good rule of thumb, according to A-1 Portable Toilets, is to have at least one portable toilet for every 25-50 people in attendance. Additionally, you should increase the number of portable toilets the longer the event goes on, especially if your portable toilets are not using a pumping system to dispose of waste.