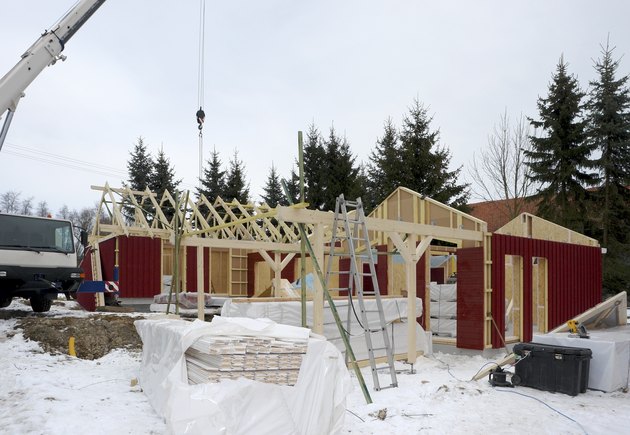 Building a house during the winter months can have its advantages. For example, because builders have fewer construction projects compared to the warmer months, you'll likely receive more attentive service from the general contractor and from subcontractors such as drywall specialists, painters and plumbers. Along with this definite advantage, though, consider the distinct disadvantages of wintertime home construction.
Plowing Through the Snow
Depending on your climate, a winter homebuilding project can be derailed by site access problems. After a significant snowfall, you can face plowing and shoveling expenses so the construction crew can access the building site. If you're building near a steep, notoriously slick road, your crews will find it difficult to safely travel to the site after just a light snow. Large building supplies trucks may find the wintry conditions too challenging to reach the building site.
Job Site Challenges
On a cold-weather construction site, contractors will race to complete structural framing and roof construction work before snow or freezing rain impacts the interior space. Workers must also complete window and door installation more quickly for the same reason. Inside, crews often need temporary kerosene-fueled heaters to stay warm while they complete interior tasks such as plumbing and electrical work. Your roofing contractor will also find it harder to install shingles in cold weather. The shingles turn brittle and become harder to handle, and they often do not seal well.
The Process Continues
You'll likely face a longer completion time for your winter homebuilding project. Your crews will need to bundle up in layers to fight the cold, causing them to move more slowly. If you're building in a climate where snow and ice are common, your construction crews can experience weather-related delays or even cancellations of an entire day's work. Even if the weather cooperates, winter days are shorter, giving the crews less daily work time and resulting in a drawn-out timeline.
The Dollars Add Up
Your wintertime homebuilding project will often cost more than a similar project your contractor undertakes in warmer weather. During the winter months, your general contractor may charge a premium for sending crews and equipment out in the cold. For cold-weather foundation construction, crews must often use ground heaters and blankets to keep the ground warm enough for excavation and concrete work. Concrete contractors frequently use a cold-weather materials mix that may also affect your overall building costs.
---

Barbara Hazelden
Based in North Carolina, Felicia Greene has written professionally since 1986. Greene edited sailing-related newsletters and designed marketing programs for the New Bern, N.C. "Sun Journal" and New Bern Habitat ReStore. She earned a Bachelor of Science in business administration from the University of Baltimore.