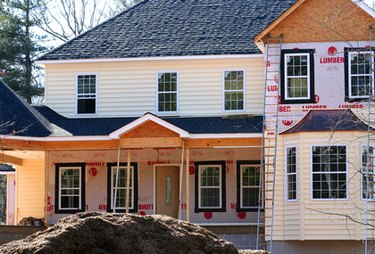 Tarp-like housewraps or other vapor barriers are an important part of keeping moisture and rot from entering the roofs and walls of a building. Tyvek is such a commonly used brand of housewrap that sometimes people forget that there are alternatives to it. However, not only are there other kinds of polyethelene housewrap, but there are numerous other materials that can be used to weatherproof houses and other buildings.
R-Wrap
R-Wrap, produced by Ludlow Coated Plastics, is a non-perforated polyethylene housewrap that's very similar to Tyvek. Like Tyvek, it has is an excellent water proofer and is also very breathable, allowing any moisture that does get trapped in the walls to escape.
Tar Paper
Tar paper is a thick, heavy paper impregnated with tar. As long as it is not exposed to sun or wind, it does not deteriorate easily. As alternatives to Tyvek, heavier tar paper can be used for roofing and lighter tar paper as a housewrap.
StrongSeal
StrongSeal, created by Cetco, is made of recycled tire rubber, which is better for the environment than Tyvek because it keeps tires out of landfills and limits petroleum extraction. It is also recyclable. Most often used as roofing waterproofing, it can also be used behind parapet walls, stucco or an exterior insulation and finishing system.
Zip System
The Zip System is a series of panels that can be used on the roofs or walls of an unfinished house as a weather barrier. It is sturdier than Tyvek because it is wood based, making it an ideal structural addition to walls. Its Zip System tape seals up gaps between the panels. It won't tear or blow away during construction, and outer layers of walls or roofing can be built directly on top of it.
Foil Insulation
Foil insulation can also work as a vapor barrier alternative to Tyvek for the walls of a house. It has a layer of foil on one side that reflects heat back into the house, a layer of bubble paper that insulates, and a layer of vinyl that acts as a vapor barrier. However, it must be stretched taught as it is installed to get the full benefits. Breathable versions of foil insulation may not have the bubble layer.
Insulated Concrete Form
Insulated concrete form (ICF) is actually an alternative to building with wood frames altogether, and lets you sidestep the need for a housewrap such as Tyvek. It is a concrete with foam insulation built into it. ICF is fire resistant, and blocks air and moisture on its own, without a housewrap.
---
Sophia Sola has been a writer and editor for over six years. She co-owns Sirius Prose Editing & Writing Service and has experience ranging from authoring magazine articles to editing Ph.D. dissertations. She has been published in the "Earth First! Journal" and on Tivix.com, JSI Top 21 Record Reviews and other websites.