Things You'll Need
Vacuum

Kerosene

2 Soft cloths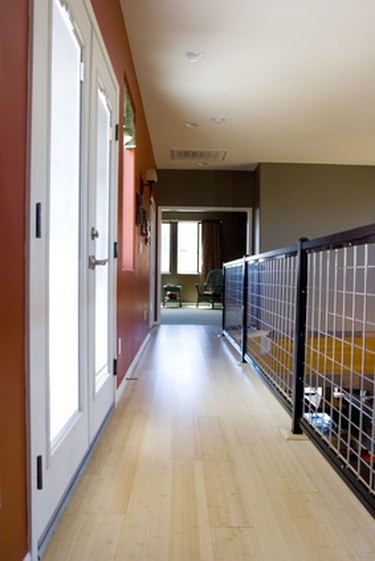 Wood flooring brings an old time, rustic elegance to your home that lasts a life time. Unfortunately, many home owners do not know the correct way to clean and care for their wood floors. A common method for cleaning wood floors is with the use of oil soap. Many wood flooring manufacturers state that using oil soap on your flooring will void the warranty. Oil soap is essentially vegetable oil and vegetable oil leaves a residue behind. For centuries, people have used kerosene to clean their wood flooring. Kerosene will not only keep your floors from looking dull, but it removes heal marks, crayon and lipsticks without causing harm to your floors.
Step 1
Open doors and windows to allow for proper ventilation.
Step 2
Vacuum the hardwood floors to remove any dirt, dust and debris.
Step 3
Place 2 teaspoons of kerosene on a soft cloth.
Step 4
Wipe the wood floors with the dampened kerosene.
Step 5
Rub the wood floors with a clean soft cloth until the floor is completely dried.
Tip
The kerosene smell could linger for an hour after using it.
Warning
Wear rubber gloves when working with kerosene.
---
Amanda Flanigan began writing professionally in 2007. Flanigan has written for various publications, including WV Living and American Craft Council, and has published several eBooks on craft and garden-related subjects. Flanigan completed two writing courses at Pierpont Community and Technical College.