Tongue and groove wood ceilings are often made of knotty pine, cypress or cedar. The ceiling is composed of interlocking panels, nailed using a blind method that renders the hardware barely noticeable. Tongue and groove ceilings are usually coated with a urethane sealer that protects the wood and also allows for easy cleaning. A tongue and groove ceiling requires a combination of cleaning and polishing to keep it looking its best.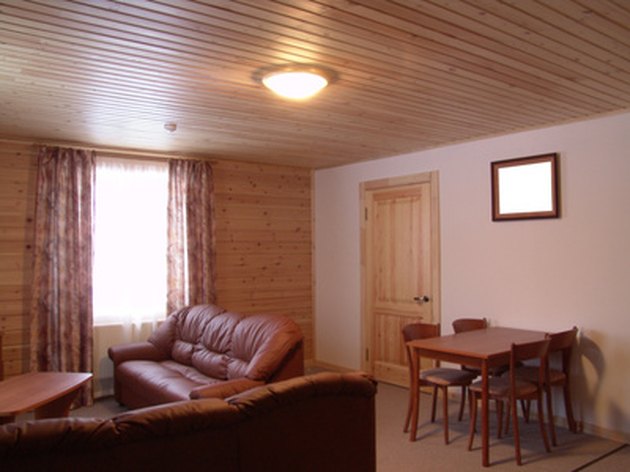 Step 1
Dust the tongue and groove wood ceiling with a telescopic duster. Run the duster along the wood ceiling, making sure to dust in between the cracks where the tongue and grooves meet and in the corners where the cobwebs hide.
Step 2
Set up a step stool or folding ladder that gives easy access to the tongue and groove ceiling. Make sure that the step stool or ladder is stable and set firmly on the floor. Carefully, climb the ladder to reach the ceiling for washing and polishing.
Step 3
Fill a bucket with warm water and add a squirt of dish soap. Wash the tongue and groove wood ceiling with the soapy water. Apply the soap solution with a soft cloth, cleaning the wood ceiling in a circular motion.
Step 4
Rinse the soap from the ceiling with clear water and a damp cloth. Dry the ceiling after cleaning, using a soft cloth.
Step 5
Polish the tongue and groove wood ceiling with a wood polish. Apply the polish as directed on the information label. Most wood polishes require application with a soft cloth and buffed into the wood in a circular motion.