Cultured marble sinks and countertops are a common installation in new and remodeled homes. Over time, the marble can become scratched when inappropriate abrasive cleansers are used, or makeup and bathroom products can stain the degraded finish, leading to a dull or faded appearance. Repair your cultured marble to keep it looking glossy and new.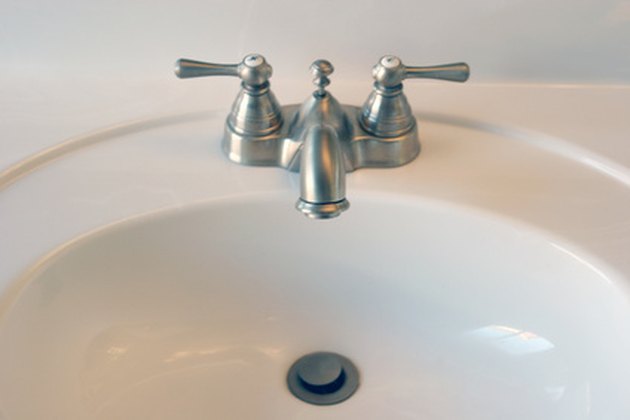 Step 1
Remove deeper scratches that don't go all the way to the fiberglass by using 800- to 1000-grit wet/dry sandpaper. Sand the scratched area and then use a wool buffing pad on a high-speed buffer to buff up the shine.
Step 2
Apply an automotive car wax that contains carnauba. Use a wool buffing pad and a high-speed buffer to bring up the shine.
Step 3
Brighten faded or yellowed cultured marble that has fine cracks in the surface with a cultured marble specific product like Kwik Bowl. This product has ingredients to lighten the color of the cultured marble as well as fill in small scratches.
Step 4
Wax your cultured marble sink and counter regularly with a product like Gel-Gloss that has been manufactured specifically for regular use with cultured sinks and countertops. This wax product will maintain the shine and protect the surface from staining when used regularly.