Things You'll Need
Vacuum with soft brush attachment

Lint-free cloth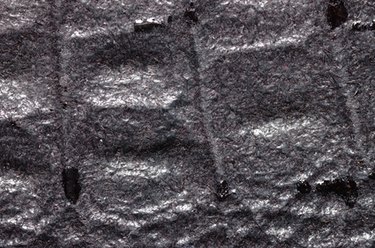 In time, leather can become dingy and dull. Cleaning the leather at least once a month will keep the shine and appeal. Added cleaning may be necessary if spills or stains happen to the leather. Furniture polish can be used to clean and shine a variety of leather goods such as purses, shoes or furniture.
Step 1
Place the soft brush attachment on the vacuum. Press lightly and vacuum the dust off the leather product.
Step 2
Spray four squirts or two capfuls of furniture polish on the lint-free cloth. Take one end of the cloth and fold it over. Rub together and reopen.
Step 3
Rub the leather product with the cloth. Wipe down with a circular motion.
Step 4
Add additional furniture polish to the cloth as needed. Depending on the size of the product, this may require four or five extra polish applications to the cloth.
Tip
Check the tags on your specific leather product. Some require special care and maintenance. If you use the wrong method, you can damage the leather.
Buy furniture polish that is safe on leather products. Read the label for this information.
---
Randall Shatto is a professional writer with 10 years of experience. Shatto maintains a focus in internet freelance ghost writing. His expertise includes medical writing, college paper composition and SEO-rich content writing. With only a high school education, Shatto's opportunities continue to grow. Shatto resides in the beautiful state of Oregon.