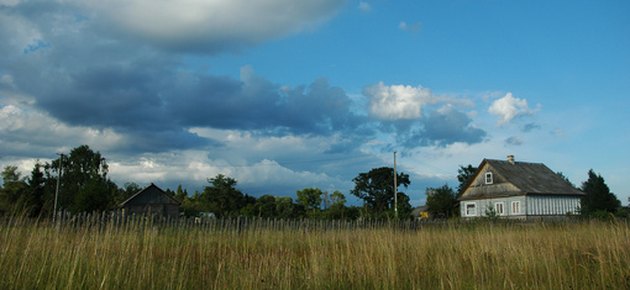 Honeywell analog thermostats control heating, ventilation and air conditioning systems. They have an integrated thermometer and temperature setting scale, have precise snap-action switches and mount directly on the wall or an outlet box. They also have a dealer logo pocket, which allows for a custom logo rather than the Honeywell logo.
Step 1
Make sure you're not trying to set the temperature beyond the range of your HVAC system and the thermostat. Honeywell analog thermostats have a temperature range of 50 to 90 degrees.
Step 2
Disconnect the power. If the fan isn't functioning in a call for heat, open the cover to check whether the settings are correct. The fan switch inside the thermostat, the switch position closest to the large wheel, should be set to the factory (F) setting for gas and oil heating systems. Change the switch to the "E" position for electric heat and heat pumps. Make sure there is a fan wire connected to the G terminal.
Step 3
Make sure the heat anticipation setting is correct. The large wheel inside the thermostat needs to be rotated to match the type of system you are using. Steam is setting 1.2, hot water heat is setting 0.8, standard warm air is 0.4 and so on. Check the users guide for other settings.
Step 4
Close the cover, switch the power back on and make sure you have the external switch set to the "Cool" position when you want to run the air conditioner and the "Heat" position when you want to run the furnace.
Step 5
Make sure the thermostat is level.
---
Patrick Nelson has been a professional writer since 1992. He was editor and publisher of the music industry trade publication "Producer Report" and has written for a number of technology blogs. Nelson studied design at Hornsey Art School.