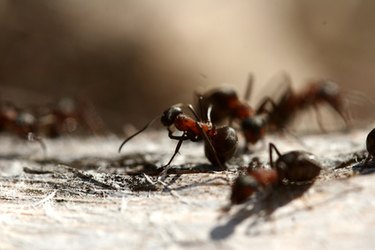 Ants are among the most invasive pests homeowners encounter. They are found almost everywhere, inside buildings, gardens, lawns and trees. Ants pose problems in lawns by building dirt mounds for their nests. Therefore, they must be removed properly. There are several methods of ant control that homeowners must consider to successfully handle problems.
Amdro FireStrike
Amdro makes a line of ant killers for your yard and home. These are pesticides that kill ants and control their populations with great effectiveness. The reason is the three-pronged ant killing technology. It is a bait system that kills the ant queen, sterilizes new invading queen ants and disables the ant colony, which makes their mounds disappear. This solution can also be used with fire ants and is found at home and garden stores.
Amdro Fire Ant Bait
Amdro's fire ant bait has been America's best-selling solution to ant problems for the past 20 years. This solution is another bait-and-kill system. The ants ingest the bait and then carry the poison back to the queen who is killed. It is easy to use, which is one reason it may be so popular. The pesticide is simply applied and it does its job. There is no need for mixing or watering down either. The solution must be delivered to the ants, however.
Bayer Advanced Yard Treatment
The Bayer Advanced yard treatment is another ant killing solution for lawns. This is an ant bait that is applied in the ant mounds. The ants are attracted to the smell of the poison, eat it and pass it on to the queen. After the queen is killed, the ants die off and the mound is destroyed. This solution is applied as a spot killer in small quantities. It controls problem areas and is used as needed.
Terro Ant Killer
The Terro ant killer solution is a liquid ant bait trap. It works outdoors and is completely weath proof. The system includes an ant trap made of plastic. This is placed near any mound. Ants crawl inside of it to eat the poison and die. It is designed to prevent ants from getting inside your home. This company also makes an ant spray, and a dry, granular poison applied with a shaker bag. Both are designed to kill outdoor ant infestations.
---
Steve Smith has published articles on a wide range of topics including cars, travel, lifestyle, business, golf, weddings and careers. His articles, features and news stories have appeared in newspapers, consumer magazines and on various websites. Smith holds a Bachelor of Arts in English and journalism from University of New Hampshire Durham.