Things You'll Need
Dimensions for your deck

List of design aspects you wish to include, such as a bench, stairs or a flower box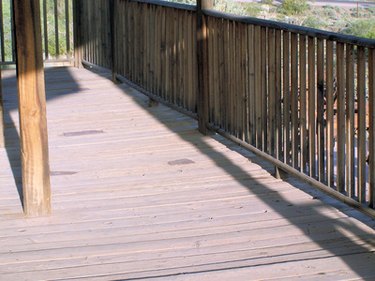 Google SketchUp is a useful tool to employ when designing a deck. You can easily adjust your design, create different options and see a 3D model before even beginning the construction of your deck. Google SketchUp offers different color and material options that you can test on your model to determine which option would best compliment your design and the surroundings of the deck. When your design is complete, you can add measurements and notes to reference while you are building your deck.
Step 1
Develop a basic design for your deck. Account for any hard dimensions that you must keep your design limited to. You may find it helpful to do a quick sketch of the design on paper, including the plan and the elevations.
Step 2
Begin to build your model in SketchUp. If you like, you can scan in your sketches and use those as a base from which to begin your model. Otherwise, you can begin by drawing the plan of the deck in SketchUp using the "Top View" icon. You have the option of selecting the "Rectangle," "Circle" or "Arch" tools from the toolbar or you can start drawing with the "Line" tool.
Step 3
Push and pull the faces of your plan by using the "Push/Pull" command. If your design is more complicated or if you would like to have a guide, import your hand sketch and work off of that elevation. Alternatively, you can adjust the view and draw the elevation in 2D and then use the "Push/Pull" command on that face.
Step 4
Add the additional design aspects that you wish to include for your deck, such as a bench, stairs, lighting or a flower box. Create these design aspects in groups or on different layers. This will allow you to experiment with a variety of design options that you can turn off or on in the model.
Step 5
Add color and materials by selecting them from the "Materials Browser" and then using the "Paint Bucket" to paint your model. You can upload custom colors and materials to the "Materials" browser if you have a specific type already selected.
Step 6
Add dimensions and notes to help facilitate the construction of your deck. Both functions are available from the main toolbar under "Tools."
Step 7
Set up views and print each view. Views you may want to use include the top and any side view with information that you need. Print any details that you will need to reference when building your deck. Create a view using the "Section Plane" for any interior dimensions that you may need to reference.
Tip
You may need to consult a structural engineer depending on your design and your location. You may need to acquire a building permit before beginning the construction of your deck.
---
Bianca James began her professional writing career in 2009. Her writings have been featured in "mtl," a community magazine, as well as on various websites. James has a Bachelor of Architecture from the University of Miami.