Things You'll Need
Wood sealer

Brush

Fine-grit sandpaper

Bleach

Mild detergent

Water

Sponge

Clean, soft cloths

Pigmented redwood stain

Staining sponge

Water-resistant, UV protected sealer

Linseed, teak or tung oil

Furniture covers (optional)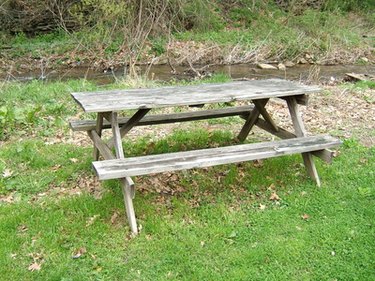 Nothing says summer like that first backyard picnic. Whether it's checkered tablecloths and fried chicken or no tablecloth and tofu burgers, outdoor dining is a treat. Many kinds of picnic tables are available, from plastic to stone, but wooden picnic tables are the most traditional. Outdoor wood furniture requires a little care, but not nearly as much as some other outdoor furniture. Maintaining your picnic table ensures years of happy gatherings, no matter what you put on top of it.
Step 1
Leave cedar tables untreated so that they weather to a lovely soft silver. If your cedar table darkens too much, add 3 cups of bleach and 1 oz. of detergent to a gallon of warm water, and use it to wash the table. Use a brush to apply a wood sealer to keep the color intact if you prefer. Use a little fine sandpaper if the wood splinters at all.
Step 2
Treat redwood tables with a pigmented stain to help retain the rich color. Use a brush or staining sponge to apply it in long, even strokes. Make sure to feather any edges where there is any overlap, so you don't get strange lines of thicker stain.
Step 3
Apply a coat of linseed oil, teak oil or tung oil to unfinished wood picnic tables once a year to keep them sleek and well lubricated. Pour a little oil onto a clean, soft cloth, and rub it into the table, always working back and forth with the grain.
Step 4
Seal unfinished hardwood picnic tables by brushing on a water-resistant, UV-protected sealer. Follow the manufacturer's instructions for drying times. Sealers are available in many tints so that you can get depth of color without having to apply a stain first.
Step 5
Maintain painted wooden picnic tables by keeping them free of dust and debris and cleaning up spills when they happen. A soft, damp cloth is all you need.
Tip
Cover all wooden picnic tables during the winter, or store them in a shed or garage if you can.
Warning
Never use abrasive cleansers on wooden picnic tables.
---
Brynne Chandler built her first bookcase at eight years old, which is also right around the time she started writing. An avid crafter, decorator and do-it-yourselfer, Brynne has remodeled several homes including one cantilevered on a cliff and one that belonged to Olympic swimmer and actor Buster Crabbe. Best known for her EMMY-nominated TV animation writing, she has been writing non-fiction content for almost a decade and has been featured in the San Francisco Chronicle and the Houston Chronicle online, among other places.