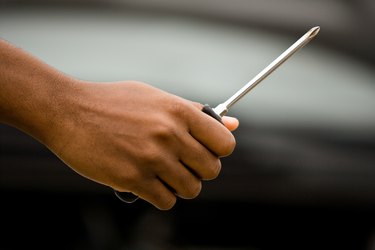 The GE pedestal is a convenient addition to any of your GE front load washer or dryer. Not only do the pedestals raise the unit, they also have a convenient drawer to store your laundry cleaning supplies. Sometimes though a box or canister can fall behind the drawer. When this happens you need to remove the drawer from the GE pedestal to retrieve the obstruction. Removing the drawer is not difficult and only requires one hand tool.
Step 1
Pull the GE pedestal drawer to the fully open position. Remove the contents from the drawer and set them aside.
Step 2
Locate the screws that secure the drawer slide to the drawer. The drawer slide is the track that fits along the each side of the pedestal drawer.
Step 3
Remove the slide securing screws with a Phillips-head screwdriver. There are two screws on each side of the drawer.
Step 4
Push the slides into the pedestal into the closed position. When placing the drawer back into the pedestal, the slides must be in the closed position.
Step 5
Slide the drawer into the drawer opening. Guide the drawer supports to the slides on each side as you push the drawer into the pedestal.
Step 6
Pull the drawer out slowly and secure the slides to the side of the drawer with the retaining screws.
---
Kenneth Crawford is a freelance writer with more than 10 years of experience. His work has appeared in both print and online publications, including "The American Chronicle." Crawford holds an associate degree in business administration from Commonwealth College.