Adirondack chairs are wonderful summer furniture for decks, patios, or even a random spot in the yard. They're comfortable, cool, sturdy and attractive. The only drawback is the low-slung seat, which can make getting out of the chair difficult if you are tall. But you can build your own chair to fit yourself or another tall person in your life.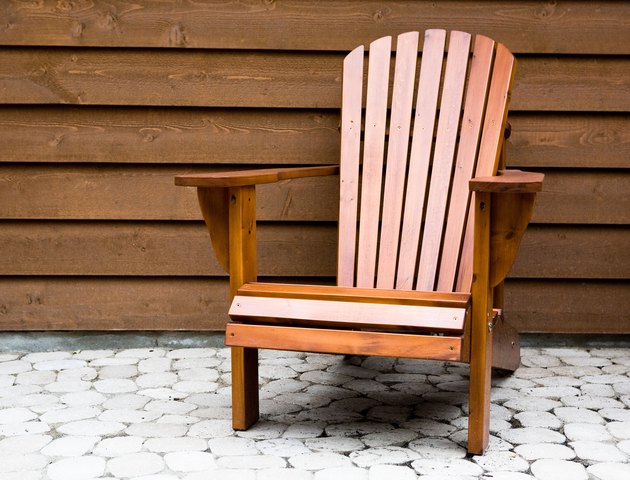 credit:
Jupiterimages/Photos.com/Getty Images
Adirondack chairs are traditionally made from cedar wood, though other woods, such as pine, can be substituted. All wood should be either ¾ or one inch thick. Width can vary depending upon personal preference. These are the materials you'll need to build the chair: 2 cedar side rails 1 cedar top back rail 1 cedar bottom back rail 9 cedar seat slats 7 cedar back slats 2 cedar front legs 2 cedar back legs 2 cedar arm brackets 2 cedar arms 2 foot pieces 2 cedar cleats 2 cedar legs 5 cedar slats 1 box of deck screws, 1 5/8 inch long, #8.
There are several areas where you can lengthen the fit for the chair. Lengthening the legs will simply make it taller but some people also want a wider seat, taller back support, and wider arms. Spend some time planning as you come up with your dimensions. For example, a standard length for front legs is 20 inches and the rear leg 29 inches. The easy way to make the chair taller is to lengthen all the legs and attach the seat so that the extra length holds the seat up farther from the ground. The same thinking applies to the back slats. Expand each area you want to adapt by a proportional number of inches and you should have no problems during construction.
The first step is to shape the side rails, back rails and seat slats in preparation for putting together the seat. You'll need moderate carpentry skills and tools like a router, table saw, hand plane and jigsaw. All the curves and angles make it easier to space and position the slats by eye rather than trying to measure precisely. Next add the back slats, remembering that the top should have a fan shape, higher in the center and sloping to either side.
Size the rear and front legs and screw the top back rail in place. Here's where you must decide how much extra height to supply if you're only planning on making the chair taller. Install the arms on top of the legs. As you proceed, it might be easier to use clamps to hold pieces together before putting the screws in. Stain and finish your chair to your taste.