Things You'll Need
Dust mop

2 cleaning mops

Bucket

Vinegar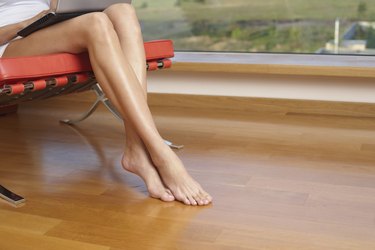 Softwood floors are similar to hardwood floors; however, they have a slightly softer texture. The flooring is made from the wood of pine trees, often containing grooves and natural tree knots that give a rustic quality to the flooring. Softwood flooring is an attractive alternative to hardwood, as it is less expensive and bears a close resemblance to hardwood flooring. Cleaning the floors requires little work, the goal being to find a cleaning solution that is safe for both finished and unfinished softwood floors.
Step 1
Sweep the floors with a dust mop every few days to collect grit and debris that can scratch the softwood.
Step 2
Mop the softwood weekly with a mild cleaning solution. Mix a gallon of warm water in a bucket with 1/2 cup of white vinegar. The vinegar is safe for both finished and unfinished flooring, and will both disinfect and deodorize the flooring.
Step 3
Dip a mop in the cleaning solution, then squeeze out excess water. Using little moisture is important, as over-saturation can cause the softwood to swell and sometimes crack.
Step 4
Mop over the floors with the damp mop, cleaning in long, steady strokes that follow the panels of the wood. Repeat until the entire floor has been mopped.
Step 5
Dry the floors by running a clean, dry mop across the flooring. This collects moisture that may remain on the flooring, preventing unnecessary moisture absorption.
---
Mel Frank is a professional freelance writer with over 15 years of writing experience. She has completed a wide variety of writing assignments for a number of publications that include CNN and various websites. Frank received a Bachelor of Fine Arts from a prestigious university in Pennsylvania.