Things You'll Need
George Foreman roaster

Potholders or oven mitts

Wooden or plastic utensils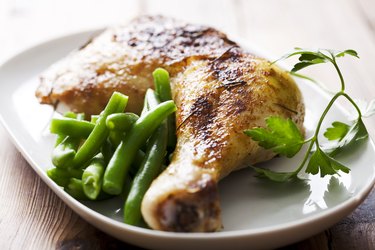 Salton's George Foreman Lean Mean Contact Roasting Machine, is simple to operate. It allows excess grease from meats to drain into a drip pan below the appliance. You will be able to cook whole chickens or roasts without heating up your kitchen, while also eliminating some extra fat and calories from your meals.
Step 1
Set the appliance on a level surface before operating. It should be clear of curtains and other flammable articles.
Step 2
Preheat the roaster. Shut the lid, plug it in and set the on/off button to "on." The power light will come on and the timer will flash, alternating "ph" and "5" for the five-minute preheating period. When the roaster is finished preheating, it will beep four times. The timer will continue to flash "ph" until you set a cooking time.
Step 3
Open the lid, using oven mitts or potholders and place the drip tray under the front of the roaster.
Step 4
Set the baking pan in the roaster if you're cooking foods containing liquid. If you are cooking foods without liquid, place them directly into the roaster without the pan.
Step 5
Shut the lid and select the cooking time by pressing the up and down arrows on the timer. You can select cooking times up to a maximum of 150 minutes.
Step 6
Turn the roaster off when the unit beeps four times. Until you manually turn it off, it will continue to beep twice every five minutes.
Step 7
Test the food's temperature with a cooking thermometer. If more cooking time is needed, lower the lid and set the timer. Re-test the food from time to time so it doesn't overcook.
Step 8
Turn off and unplug the unit.
Step 9
Pull out the drip tray after the roaster is completely cool and empty it before cleaning it.
Tip
Be sure to use oven mitts or potholders when handling the roaster, since it will be hot and can release steam. Use only plastic or wooden utensils because metal utensils can damage the non-stick surface.
Warning
Do not cook with the lid of the roaster open, since steam will be produced during cooking.
---
Margaret Morris has a Bachelor of Arts in English with a concentration in creative writing from the University of Pittsburgh. She also holds a celebrant certificate from the Celebrant Foundation and Institute. Morris writes for various websites and private clients.