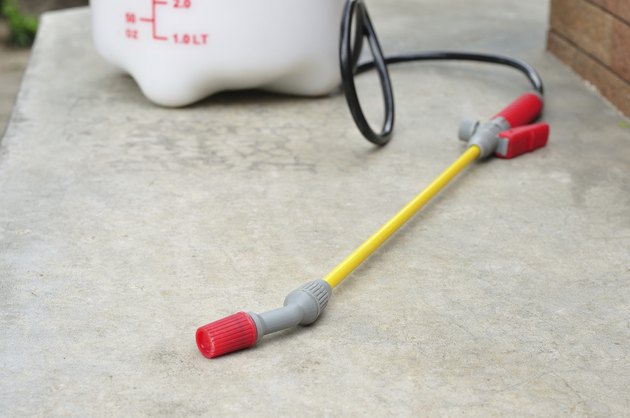 Bugs not only carry a host of diseases, but they also pose an annoying nuisance to homeowners. Cockroaches, silverfish, pill bugs and ants commonly infest homes. Other bugs such as spiders may provide the beneficial service of killing mosquitoes and flies, but they can also bite unsuspecting residents. Decide whether you want to use an organic or conventional insecticide. Take back your home by finding where bugs are coming in and spraying their favorite hideouts and passageways.
Step 1
Use a bug spray that has been specifically formulated to kill the insects infecting your home. Fleas, ants, cockroaches and yellow jackets, to name a few, all have different reactions to chemicals. Be sure that the label of the bug spray indicates that it kills the particular type of insect.
Step 2
Look for their hiding places. Bugs can hide in floor boards, under rugs, in light fixtures and within carpet. Get an idea of where they are living and laying eggs. Spray these areas with bug spray.
Step 3
Spray the outside of your home before bugs have a chance to get inside. Check for any infiltration of bugs in through loose foundation, under doors or in small crevices. Be sure to select a spray that is garden-safe if you spray outdoors.
Step 4
Set up a spray schedule to kill bugs that hatch. Insects have different life cycles. You may not have sprayed their eggs when spraying, so it's important to treat them twice.
Step 5
Treat the bug infestation before it escalates. Spring is the best time to kill off the yellow jackets' queen. You can prevent insect problems from worsening by acting before the bugs multiply.
Tip
Use a bug spray with a pleasant fragrance. Many insecticides are available in floral fragrances that won't make your home smell like bug spray.
Warning
Avoid spraying near food or food preparation areas. When spraying the kitchen put away any open food packages, fruit baskets, dishes, cutlery and cookware.
---
Faith McGee has eight years experience conceptualizing and producing print and web content for a myriad of real estate conglomerates. She has a Master of Fine Arts degree in creative writing from California College of the Arts. McGee has developed persuasive copy that has received many accolades from real estate companies and publications.