Things You'll Need
Drop cloths

Pressure washer

Premixed mortar patches

Exterior latex masonry primer

Paint tray, rollers and brushes

Silicone acrylic caulk

Cement-based acrylic latex house paint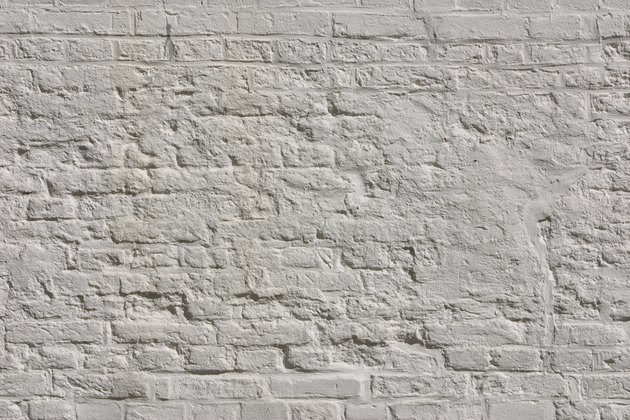 Painting a brick exterior on a house can be a time consuming job, but the results are often worth the effort. Some people adamantly feel that exterior brick should not be painted with house paint, while others enjoy the aesthetic look of exterior paint on brick. Painting exterior brick is a choice that comes down to personal preference, functional need and style. It's ideal to paint over a brick exterior when it is damaged or unsightly.
Step 1
Place drop cloths around the exterior of the house to protect vegetation and other structures. Pressure wash the exterior brick with a 1500 psi pressure washer to remove dirt and debris. Be careful not to apply too much pressure too closely or you'll damage the mortar. Make sure the surface is as clean as you can get it before you start the exterior painting. A clean surface helps the paint adhere better and last longer.
Step 2
Repair damaged areas using a premixed mortar. Follow the manufacturer's directions for drying time. The exterior house paint will look newer and last longer if the underlying structure is repaired and in good shape.
Step 3
Caulk any gaps using silicone acrylic caulk to fill gaps and keep water out. Also caulk around wood trim, windows and doors to seal them.
Step 4
Apply a high-quality exterior latex masonry primer to the bricks. Exterior house painting is easier when the bricks are primed beforehand -- you won't have as much back brushing to do. Pour the primer into a paint tray and use a roller cover with a 1/2- to 1-inch nap. Roll the roller in the paint, and apply the paint in a W pattern, working in 3-square-foot sections. Overlap the sections as you work from the top to the bottom.
Step 5
Apply the acrylic latex house paint on the exterior bricks using the same method as for the primer. Use a paintbrush to fill in any mortar cracks and other areas that you can't reach with the roller. Let it dry according to the manufacturer's directions, then apply a second coat as needed. You can use a paint sprayer instead of rolling the paint on.
Tip
Paint the wood trim and shutters a complementary color to make the new exterior brick paint stand out.
Warning
If your exterior brick has old paint on it and you want to remove it, pressure wash or sandblast the bricks until the paint comes off. But if you think the old house paint may have lead in it, don't pressure wash, sandblast or scrape it off. Hire a lead specialist to remove the paint for you. Lead paint can be hazardous to your health.