As home decor becomes more simple and artsy, many people have forgone a traditional bed frame for something more useful. These frames can be anything from huge pieces of furniture to a very minimal one. A great way to hold your mattress is to build a box frame. These bed frames sit low on the ground and are sturdy enough to not need a box spring. The box frame is an easy frame to build yourself.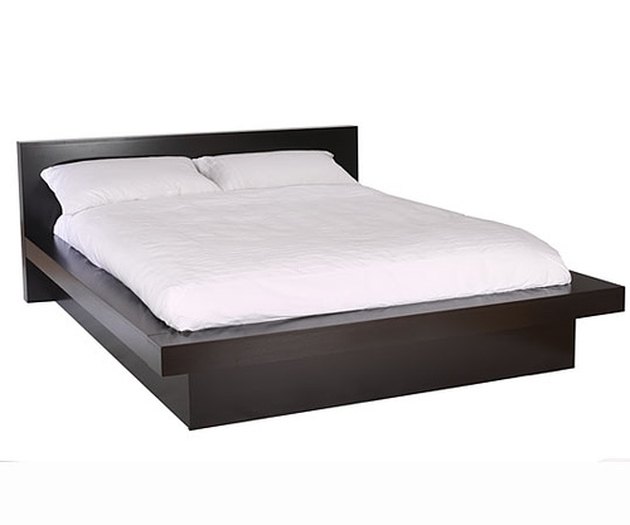 Step 1
Take the pieces of 5-foot and 6-foot, 10-inch 2-inch-by-12-inch boards and make a rectangle with the 2-inch side of the boards on the ground and the shorter pieces in between the longer ones. Screw the rectangle together using three screws in each joint.
Step 2
Place the 4-inch-by-4-inch posts in the corners so that they stand 6 inches tall. Screw the posts into the frame using three screws on each side.
Step 3
Use the measuring tape and measure 3 feet, 5 inches along the longer side of the rectangle. This is the center point of this board. Place the 5-foot-long piece of 2-inch-by-6-inch board inside the rectangle, straddling this mark so the brace is running down the center. Make sure the board is on the ground, sitting on the 2-inch edge. Screw the board in at this point.
Step 4
Measure 2 feet, 8 inches from the end of the shorter side into the center. Place your 3-foot, 3-inches piece in the center of the rectangle, at this mark, and on either side of the center brace. Screw all the braces to the rectangle frame.
Step 5
Place the piece of plywood in the frame on top of the posts and the braces. Screw the plywood in the corners and along the center to secure to the frame.