Beautifully hand-carved wooden curio cabinets or even modern curio cabinets constructed of glass and metal shelving serve the same purpose. Curio cabinets are used to showcase fragile and priceless items such as collectibles, antiques and family heirlooms. Often outfitted with internal lighting and clear glass walls and doors, curio cabinets become the focal point of a room.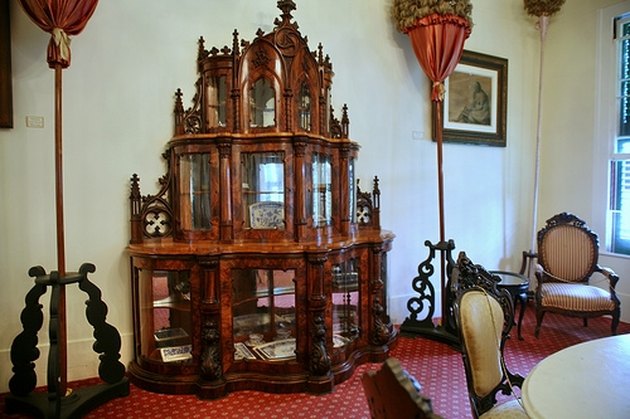 Place a curio cabinet in a living room to display collectibles. Show off years of collecting by arranging pieces on small pedestals in the curio cabinet. Collections of glass vessels show well on clear glass blocks, while porcelain figurines can sit gently on a piece of embroidery. Use plate displays for collectible dishware. Arrange the collection by year, style or theme in the curio cabinet.
Arrange antiques in a curio cabinet as a safe display option. Keeping antiques behind closed doors makes them less enticing to children and curious pets. Display the antiques by collection, type or years.
Arrange a room around the curio cabinet. The contents can easily be a centerpiece for a sitting room or den. Choose a curio cabinet that complements the decor of the room. Decorate the rest of the room to coordinate with the contents of the curio cabinet. For example, a retired military officer may proudly display his awards, mementos and uniform in the curio cabinet. Hanging enlarged photos of him in his service uniform and paper documents from the military on the walls coordinate the theme of the curios cabinet with the room.
Display family heirlooms in a curio cabinet in a dining room or living room. During the holidays or other times of family gatherings, the curio cabinet will serve as a source for family stories. Include a variety of pieces from jewelry to vases. The collage of items will spark wonderful questions and conversation. Include pieces that tell of the family's ethnic heritage, travels and livelihoods. Military honors, wedding gifts and even framed photographs of distant relatives are appropriate for a curio cabinet. Let the piece of furniture show guests a snapshot of your family history.
Consider starting a shelf in the curio cabinet for future family heirlooms. Proudly display children's artwork and memories from a recent wedding. The special display will be cherished by children, and preserve family items for years to come.