Anyone who has moved into a house with a poorly installed vinyl floor probably knows the frustration of trying to get out large bubbles in vinyl flooring. It can feel impossible to fix but too unsightly to live with. Fortunately, vinyl flooring, unlike roll out linoleum and no glue linoleum, is a material that can actually be manipulated once it has been laid down. All it takes is the application of heat and pressure.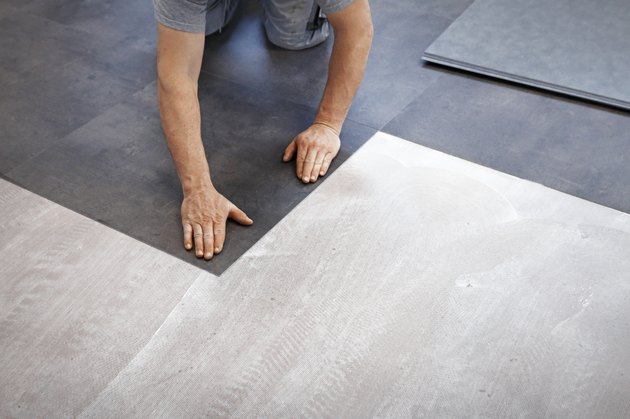 credit:
narvikk/iStock/GettyImages
Vinyl flooring is a durable and affordable alternative to tile, hardwood floors or natural stone flooring. Similar to linoleum, vinyl is available in a number of shapes, sizes, colors and patterns that can complement any sort of decor. Vinyl flooring is popular because it's durable, stylish and easy to install and clean.
Repairing Wrinkles in Vinyl Flooring
Anyone with familiarity around roll-out linoleum flooring or no-glue linoleum is aware that if improperly laid down, it has the tendency to wrinkle. Sometimes the vinyl flooring tiles aren't as adhesive as would be desired, and wrinkles and small folds can appear on the surface of the tile. The vinyl can also stretch due to heat or wear.
Fortunately, there's hope for saving wrinkled vinyl floor tiles. While you should always have extra vinyl floor tiles on hand in case you need to replace one of your tiles, it would be nice to avoid the annoyance of having to replace a tile whenever possible.
Plug in a hairdryer and turn it to high heat, using the warmth from the hair dryer to heat the surface of the tile. Once the tile feels softer and more malleable, use your hand to flatten the surface of the tile and smooth out any possible wrinkles. Once the tile is flattened, place a heavy object on top of it while it cools in order to help it reseal to the subfloor.
Repairing Wrinkles in Vinyl Flooring With an Iron
For a more stubborn wrinkle, you may need to use an iron. First, clean the floor tile and be sure it's clear of any dirt, dust or particles that could melt and cause a stain. Once the tile is clear, plug in an iron and allow it to heat for a few moments.
Place a sheet of aluminum foil over the tile and run the iron back and forth over the foil in order to warm up the surface of the tile and melt and reactivate the adhesive beneath. Then, remove the iron and the sheet of aluminum, but be sure to wear gloves to avoid burning your hands.
While the tile is still hot, roll a rolling pin over the surface of the vinyl tile until all the bubbles and wrinkles are removed. Place a heavy object on the tile and allow it to cool and reattach to the subfloor below.