Planting trees to form an Arborvitae Pyramidalis privacy fence is a very effective way of creating a thick barrier behind which your life can proceed without the worry of being seen. The fence will grow over time, forming a stunning green wall that stays colorful even in the cold frostiness of winter. You will want to space the trees properly when they're young for maximum privacy.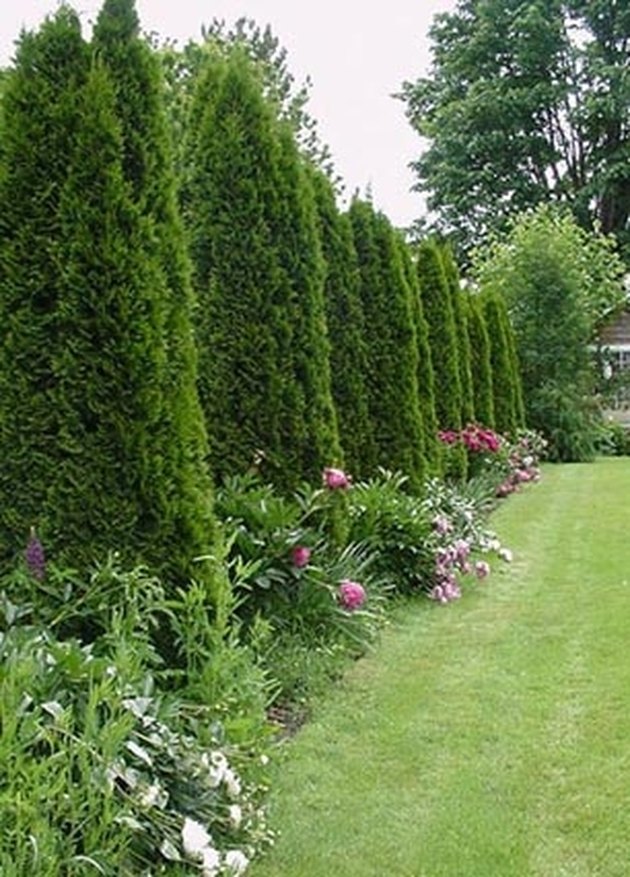 Step 1
Measure out the area where you want to have your privacy fence. Make sure you are not encroaching on your neighbor's property or that the trees won't be in 10 years' time. From end to end, measure just the length of the row and mark it with your spray chalk.
Step 2
Each tree will need to be spaced three feet in all directions from the trunk. Measure three feet in from one end and make an X on the line to mark where the first tree will go. Measure six feet from that point and make another X for the next tree and so on until your line is done.
Step 3
Make another row, six feet away but parallel with your first line. Mark it with chalk. Measure six feet from the beginning of the line and mark the spot for your first tree in this row. Continue as you do so for the first row. The position for the trees should be alternating if you look at them from a perpendicular vantage point of the row.
Step 4
Dig holes for your trees on the X marks you made. The larger trees will be more expensive and take a little more work to plant, but they will provide more privacy instantly. Dig the hole about six inches larger than the root ball, set the tree in, pack in the dirt and water it well.
Step 5
Keep watering the Arborvitae trees weekly during the first year, unless it is raining or the ground has frozen. They will grow just a few inches every year until they are about three feet from the center or six feet wide. After reaching this width, they will continue to grow in height about six to nine inches yearly.