Things You'll Need
Castile soap

Towels

Soft microfiber towel

Leather conditioner

Leather cleaner

Plasticized adhesive

Fabric scrap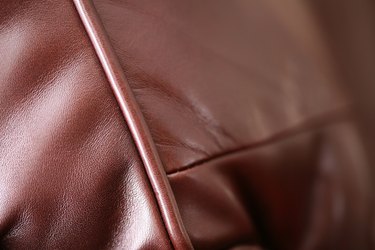 Since ancient times furniture makers have used animal hides over furniture and beds. Leather has been valued for its natural beauty and durability. Because of the intensive process of tanning, leather is used high-end furnishings. Some leather furniture is treated in this process to maintain moisture and suppleness. Older leather upholstery may need help to maintain its durability and beauty. Treat leather like what it is: a skin that can dry and crack without the right care.
Step 1
Restore the luster and clean newer leather furniture by using a little castile soap rubbed onto a damp cloth. Rub the damp cloth quickly over the leather. Buff with another damp cloth before rubbing dry with a clean cloth.
Step 2
Add conditioner to a clean microfiber cloth. Carefully wipe down the entire sofa with the towel and conditioner. Scrub any marks on your sofa with the same conditioner or leather cleaner.
Step 3
Wait five minutes and wipe the sofa with a dry microfiber towel to wipe up the excess conditioner on the sofa. Repeat this process at least two or three times a year.
Tip
If your leather sofa does crack, apply a plasticized adhesive to a piece of fabric. Work the fabric, adhesive side up, under the crack. Press the edges of the crack together on the adhesive. Apply pressure to the repaired area for at least three hours. Do not use repair tape or adhesives which can become rigid.