If your hardwood floors are the worse for wear, you can usually bring them back to life by refinishing them, and you can save a bundle by doing the job yourself. Keep in mind, though, that the principle of the job -- sand the wood and apply a new stain and finish -- may be simple to understand, but that the actual procedure is physically taxing and you won't have the same quality sanding tools that a pro has. If you don't mind putting out the effort, though, you can definitely get top-notch results.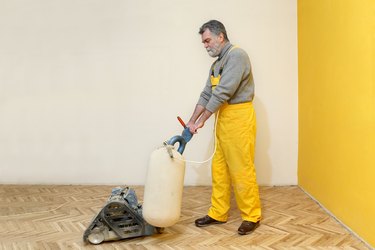 Tip
A strong maintenance routine is the key to the longevity and durability of your floors. Staying active with a daily maintenance routine is the first line of defense, but daily cleaning alone will not protect your floor's finish forever. A floor's finish will go through normal wear and tear over the years and will need attention. Revive, Restore or Refinish your floors to increase the longevity of your floors and protect your investment. Revive Restore or Refinish Your Hardwood Floors
Step 1: Inspect the floor
Not all hardwood floors are candidates for refinishing. Some are engineered with a veneer that may have been sanded already, and some solid wood floors may have simply worn too thin to be re-sanded.
To determine if your floor can be refinished:
Inspect the cross-section of the flooring in a doorway to check for a thin veneer.
If the flooring is made from solid wood, press down on the edges of the boards with your fingers; if you feel any give, the boards are probably too thin to sand.

Step 2: Prep the Floor
Once you've decided to proceed, wash the floor to remove wax, and hammer down any nails that are sticking up. Fill holes and cracks with wood filler, and you're ready to sand.
Step 3: Sanding Procedure
Refinishing pros usually use a drum sander to sand the main part of the floor, but an orbital flooring sander is easier to use and a better option for a homeowner. It removes material more slowly and doesn't always remove super-hard finishes, though. Start sanding with 50-grit sandpaper -- coarser grits are advisable only if you have to level the floor -- and work your way up to 120-grit paper.
If you have to use a drum sander, you'll also need an edger, which is a heavy, rolling disk sander for sanding the edges and corners. You may also have some success removing finish around the edges and corners with a scraper and a palm sander. As with the orbital flooring sander, start with coarse paper and work your way up to finer grits with successive passes when using an edger or palm sander.
Step 4: Staining and Finishing
If you want to change the color of the flooring with a stain, do it immediately after the final sanding, because the wood grain is open and vulnerable to moisture. Apply the stain by brushing or wiping, and then wipe off the excess -- going with the grain of the wood -- to prevent pooling.
If you prefer to omit the stain and apply a penetrating oil instead, apply it in the same way. Options for clear film finishes include oil- or water-based polyurethane, acrylic urethane, shellac; if you oiled the wood, you can also use floor wax. When applying a finish, it's always best to apply several thin coats rather than a heavy one. Be sure to provide plenty of ventilation and wear a respirator.
Alternative: Screen and Recoat
You don't always have to do a full refinish to bring back your floor's luster. Instead, you can opt for a screen and recoat, which is a job any homeowner can accomplish in a day.
Screening means scuffing the floor with a floor buffer fitted with a sanding screen. This procedure doesn't remove the existing finish; instead, it knocks the finish down, etches it and prepares it for one or two coats of restorative clear finish, which you apply directly over it. To successfully screen and recoat, it's essential to clean all wax off the floor, or the screen will clog and the new finish won't adhere.
---
Chris Deziel is a contractor, builder and general fix-it pro who has been active in the construction trades for 40 years. He has degrees in science and humanities and years of teaching experience. An avid craftsman and musician, Deziel began writing on home improvement topics in 2010. He worked as an expert consultant with eHow Now and Pro Referral -- a Home Depot site. A DIYer by nature, Deziel regularly shares tips and tricks for a better home and garden at Hunker.com.
View Work