Decks and fences are often overlooked for their visual opportunities. A properly stained deck or fence can showcase the stunning view from your backyard, elevate a bland home with a ring of striking hues or create a pop of color that is aesthetically impressive in an otherwise dull area. If you take in to consideration the type of wood that is getting the stain, the landscape around it, the temperature and weather when applying, you should have a beautifully stained deck or fence that looks like a professional brushed it on.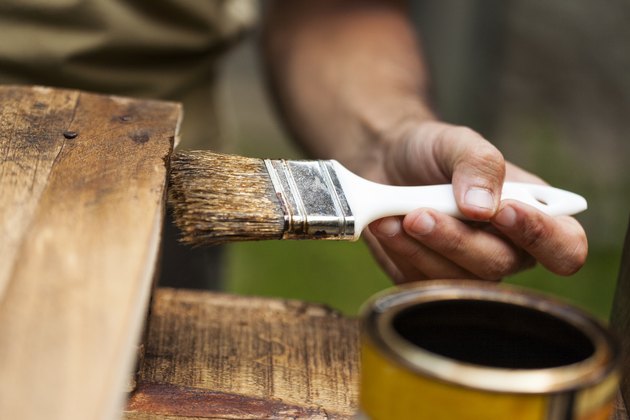 credit:
danchooalex/iStock/GettyImages
When choosing a stain hue for your project, consider what color will showcase the wood's natural characteristics. It's not about the type of wood – whether it is cedar or mahogany – as it is about what is around the wood. A home blanketed in light siding can be brought to life with a wash of blue that can give a calming tone to your outdoor area. If the deck you have is striking in its natural hues, this semi-transparent stain will play up the richness of a wood fence or deck. If your backyard is stunning, a subtle yet lush green stain can keep your towering trees and expanse of lawn as the focal point.
Stay away from solid stains and deck resurface coatings if you want to highlight the natural color of the wood. Transparent and semi-transparent as well as semi-gloss stains let the natural attributes of the wood shine.
Test a colored stain on inconspicuous spaces on your deck or fence before you commit. You may be surprised what works best for the wood. If you want to fully remove the stain samples when it's time to paint, swipe a bit of stripper over it rather than sand it off, which can cause a patchy and uneven area on your deck or fence.
Wood is ready for stain if water doesn't bead on its surface. If water beads, the wood needs to be sanded down to accept the new stain evenly. A deck cleaner can be applied two days before the stain to remove old dirt that has settled into cracks. Spray it down with a pressure washer to dislodge dirt and debris and rid the wood of any leftover cleaner chemicals. (Make sure you're careful so you don't damage the wood.) Repair any deck boards and sand down rough areas with 80-grit paper.
Find two days when the weather is clear and the temperature is between 50 and 90 degrees. Stir the sealer gently so no bubbles form. Start with two or three boards and apply a thin, even coat. Have a second person use an extended roller to back roll over the first coat to make sure it is even. Use a roller for the larger areas and a paint brush for the steps, railings, posts and corners to get a truly even coat. A second coat is not required but can be useful. Allow it to dry overnight.