All households have documents that require safekeeping. Most people hide such papers away in a desk drawer, assuming they'll be safe and easy to find in an emergency. Fires, however, are one such emergency when papers don't usually remain safe. Unless they have been locked in a fire-proof safe, it is likely that such documents would be burned. Replacement of some documents is next to impossible. Consider, then, a fire-proof safe. Many versions of the safe are compact and affordable. The materials they are made of help ensure the safety of important documents and other keepsakes.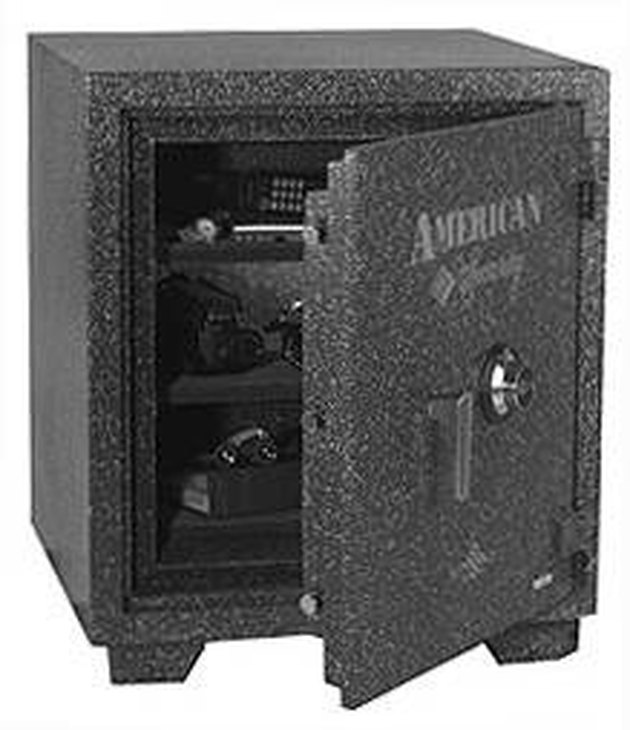 There is a difference between a fire-proof safe and a fire-resistant safe. Fire-proof safes are manufactured to sustain heat up to 1,700 degrees for about one hour. Most home fires burn for about 20 minutes at about 700 degrees.
Fire resistant is defined as having passed a test performed by Underwriters Laboratories, which determines it won't easily ignite and burn. In the case of the fire described above, a fire-resistant safe would likely melt.
Fire-proof safes are commonly manufactured with perlite or vermiculite, the same materials that are used in making fire-proof doors and fire-proof cabinets. Those two materials are used in making most vaults as well. Perlite and vermiculite are lightweight materials that are also inert and fire proof.
A material called insulite has been patented by the Schwab Corporation for use in making fire-proof safes. It has passed Underwriters Laboratories tests for fire-proof and fire-resistant capabilities. Financial institutions are using more safes and vaults made with insulite as they replace older models.
The testing that takes place for fire-proof and fire-resistant safes is thorough. The ratings are signified by hours and temperature. A rating for half an hour has been tested to sustain 1,550 degrees. A one-hour rating is tested at 1700 degrees. (This is the most common rating, and it is at this rating that the term "fire proof" is ascertained.) From there, the tests run two hours at 1850 degrees, three hours at 1920 degrees and four hours at 2000 degrees.
While UL testing stipulates that some fire safes can withstand the three- or four-hour tests, it is usually unnecessary to foot the bill for safes of this nature. Most insurance companies agree wholly with Underwriter Laboratories statement that units with a UL1 (sustaining one hour at a temperature of 1,700 degrees) is compliant with most standard policies.