Things You'll Need
Liquid fabric softener

Spray bottle

Soft, clean cloth

Sponge

Microporous eraser product (Mr. Clean Magic Eraser)

Baking soda

Shampoo

White vinegar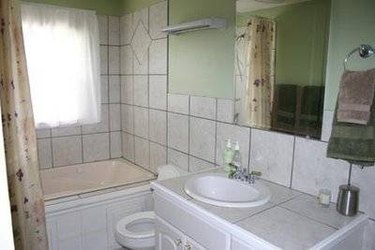 At a glance, it's hard to tell where the hairspray that didn't go into our hair settled. This clear, sticky substance isn't apparent until it is in great quantities. When hairspray builds up on ceramic tile it becomes more than apparent by its isolated shiny spots. If hairspray is causing uneven, shiny areas in your home there is no need to worry. There are several proven methods that easily lift hairspray from ceramic tiles as though it was never there.
Step 1
Mix one part liquid fabric softener to two parts water in a spray bottle and shake well to mix it up. Spray the tiles with the solution and wipe it away with a soft, clean cloth.
Step 2
Dampen a microporous eraser product, such as a Mr. Clean Magic Eraser, and wipe the hairspray off of the tiles.
Step 3
Make a paste of baking soda and water and apply it to the tiles with a soft, clean cloth or sponge. Let the paste to sit on the tiles for about two minutes before wiping it away with a clean, damp cloth.
Step 4
Apply hair shampoo to a clean damp cloth and scrub the hairspray away.
Step 5
Pour white vinegar into a spray bottle and spray it onto the tiles. Wipe the tiles with a sponge or soft, clean cloth to remove the hairspray.
Tip
Test each method on an inconspicuous area of the tile before using it to remove the hairspray.
---
Melynda Sorrels spent 10 years in the military working in different capacities of the medical field, including dental assisting, health services administration, decontamination and urgent medical care. Awarded the National Guardsman's Medal for Lifesaving efforts in 2002, Sorrels was also a nominee for a Red Cross Award and a certified EMT-B for four years.