A butterfly chair is an inexpensive retro chair that adorns many bedrooms, dens, dorms and basements. If your butterfly chair is showing signs of wear and tear, removing the old cover and replacing it with a new chair cover of your own design is a simple and satisfying project. When you are finished, you will have a butterfly chair covered in fabric that is exactly to your liking.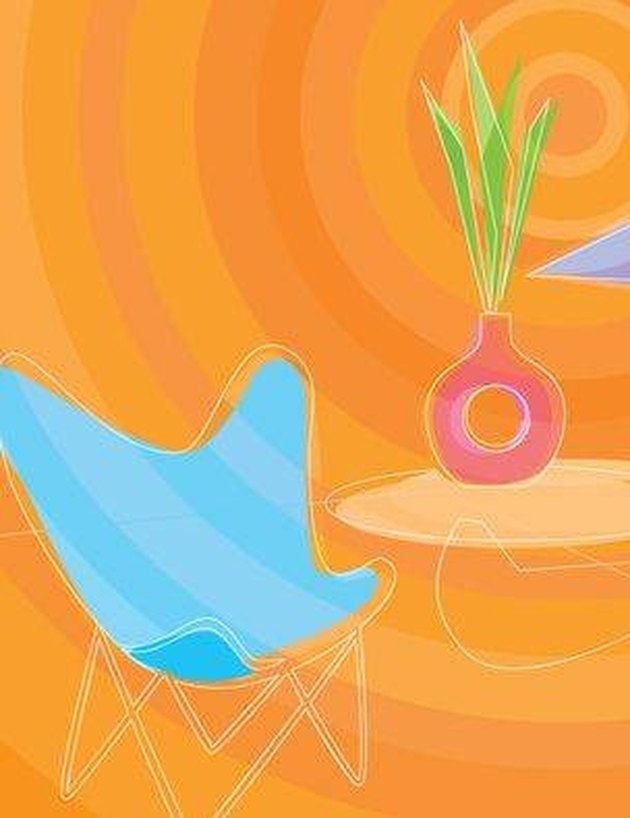 Step 1
Remove the old butterfly chair cover carefully from the chair.
Step 2
Lay the fabric wrong side up on a flat work surface and place the old chair cover on top as a pattern.
Step 3
Cut one top and bottom chair cover piece from the main fabric and one top and bottom chair cover piece from the complimentary fabric, adding in 1/2 inch around all edges for seam allowances. Cut four corner pieces from the complementary fabric.
Step 4
Place the pieces together with right sides facing and match the edges. Sew the main fabric top portion to the main fabric bottom portion. Repeat with the complementary fabric.
Step 5
Turn under 1/2 inch along the raw straight edge of the corner pieces and press the fold. Hem this edge of the corner pieces by sewing along the folded edge.
Step 6
Match the four corner pieces to the corners of the complementary fabric pieces with the wrong side of the corner piece against the right side of the complimentary fabric. Sew the corner pieces to the complementary fabric around the curved outer edges.
Step 7
Pin the main fabric piece to the complementary fabric piece with wrong sides facing each other. Sew around the edges with a 1/2 inch seam allowance leaving 6 to 8 inches open for turning.
Step 8
Turn the chair cover right side out and sew the opening closed carefully by hand.
Step 9
Slip the new butterfly chair cover onto the chair frame by looping the corner pockets over the frame.