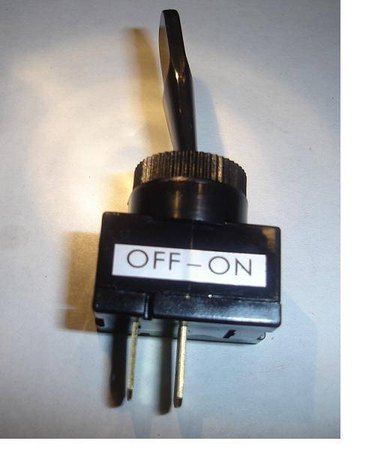 Wiring a toggle switch for a 12 volt circuit is a task that even a beginning home handyman can do in a very few steps. These switches are very common in a home or vehicle.
Step 1
Determine the type of terminal your switch uses. The two types of terminal are blade or screw. If you are replacing an old switch, buy the new switch with the same type of terminal.
Step 2
Connect the wire from your power source to the center terminal of the switch. Use a female spade connector to make the connection if your switch has blade terminals, and a ring terminal connector if the switch has screw terminals.
Step 3
Connect the wire to your load (powered device) to the other terminal of the switch.
Step 4
Turn on the switch to test your circuit.
---
K.K. Lowell is a freelance writer who has been writing professionally since June 2008, with articles appearing on various websites. A mechanic and truck driver for more than 40 years, Lowell is able to write knowledgeably on many automotive and mechanical subjects. He is currently pursuing a degree in English.