Log cabin furniture makes for a beautifully rustic design in the home. Unfortunately it is quite expensive to purchase and many people can't afford to buy it. There are ways to make your own log cabin furniture, however. If you have a good knowledge of woodworking, you will be able to make your own log cabin furniture. All measurements are approximate and can be customized to fit your individual needs.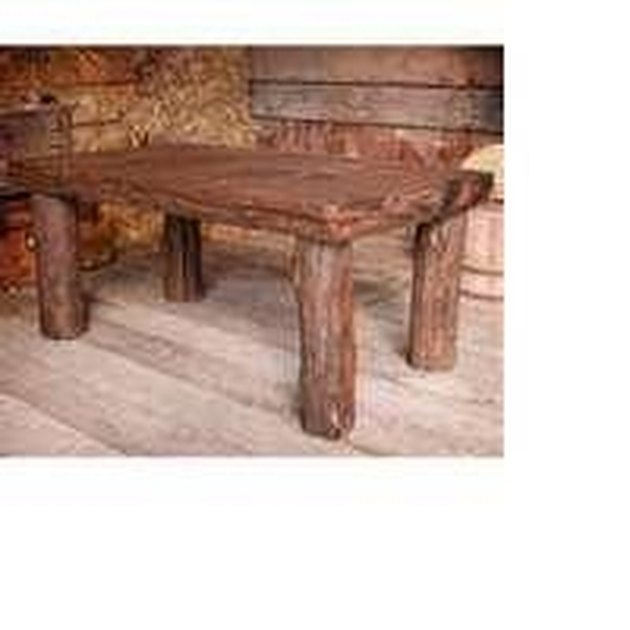 Step 1
Visit a sawmill and purchase a 12 foot by 25 inch slab of pine, preferably with blemishes and an unusual shape. Make sure it is a thick slab. This will be enough to make a coffee table and one end table. If you prefer two end tables instead of just one purchase a larger slab of pine. Be sure the solid wood is not dried out as it will warp. You will also need to purchase at least 24 feet of 3 inch fence posts for the legs. This is if you want 3-foot legs. You may need to adjust this when determining how high you want your tables.
To make the coffee table, cut 52 inches off of the slab for the table top. Then cut 25 inches for the end table. Cut the fence post into eight 3-foot high legs, making sure each end of each leg is straight and smooth so the table will sit steady.
Step 3
Use the draw knife to peel the bark from the pine if you are going for a finished look. Do not peel the bark if you want a natural look. You can also use the skip method if you prefer only parts of the bark to show.
Step 4
Sand down all the surfaces until you get a finish you like with the rough grit sandpaper.
Step 5
With a jig, make mortises on the underside of the table that are slightly larger than the legs for a tight fit. If needed, use the chisel and chip out any remaining wood or use a tenon cutter.
Step 6
Apply the gorilla glue to the inside of each mortise and insert the legs. Allow to dry completely. This will usually take 24 hours.
Step 7
Once the assembly is complete, sand the entire piece one final time and apply the minwax stain sealer with the brown pigment of your choice. This process needs to cure two days.
Step 8
After the curing process, apply three coats of varathane, allowing to dry in between coats, for a shiny, well-protected surface.