Things You'll Need
Screwdriver

Adjustable wrench

Combination square

Flexi-curve

China marker

Saber saw

Towel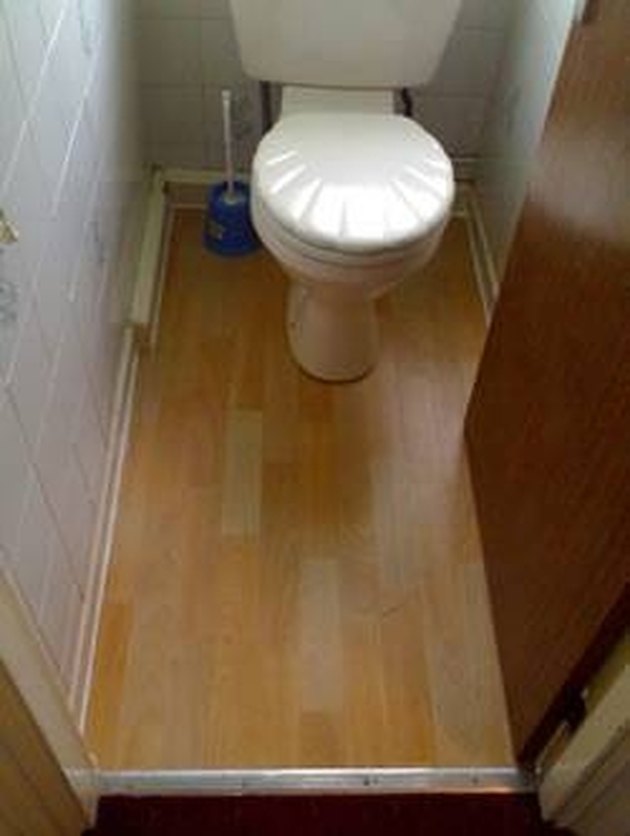 One of the most challenging parts of installing flooring of any kind is figuring out how to install around obstacles like doorways, bathtubs, sinks and toilets. This tutorial will describe how to install laminate flooring around a toilet. You will need to be able to remove the toilet for this job so have a partner help you,
Step 1
Remove the toilet from the floor with the water turned off.
Step 2
Plug the drain hole with a damp towel to keep toxic sewage fumes from coming up while you are working.
Step 3
Scrape off the wax seal on the flange, which is the pipe fitting that connects the toilet to the floor.
Step 4
Use a combination square to draw a box on the piece of flooring with the china marker that indicates the outer edges of the flange.
Step 5
Bend a flexi-curve around the outside of the flange.
Step 6
Place the flexi-curve on the piece of flooring with its inside edges aligned with the box that you drew in Step 4.
Step 7
Trace around the outer edge of the flexi-curve to cut the laminate with 1/4 inch gap for expansion.
Step 8
Use a saber saw to cut out the marked circle.
Step 10
Seal the flange with silicone caulk.
Step 11
Replace the toilet when the floor is dry.
Tip
If you have additional questions or problems, you can check with your flooring manufacturer for instructions.
Warning
If you install a laminate that is not approved by the manufacturer for use in a bathroom, you will void the warranty. Most lines of laminate do not do well with moisture.
---
Anna Roberts has written professionally since 2007, specializing in home and garden topics for the web, among other subjects. She recently expanded her gardening and sustainable food expertise by spending a year "locavoring." Roberts holds a Bachelor of Science in visualization from the Minneapolis College of Art & Design.