What good is it to construct a building for a bomb shelter out of concrete blocks but have a wooden roof? It doesn't make much sense. A newly developed system now allows roofs to be built from concrete block. The concrete blocks are supported by steel joists that make concrete floors and roofs simple and affordable. Standard hollow blocks laid on their face and supported between steel joists make a structurally sound roof and far surpasse any code requirements.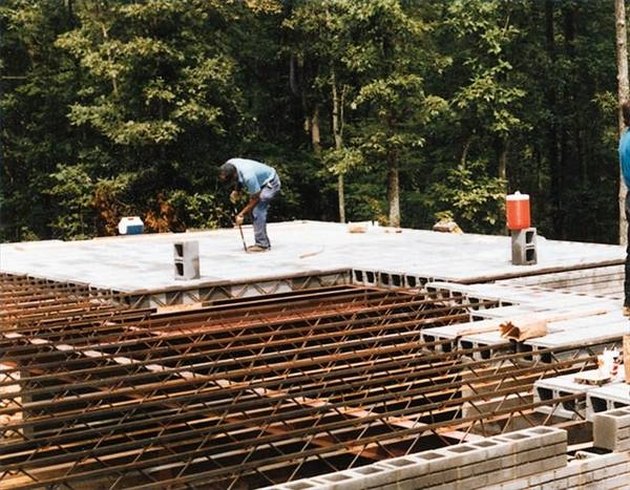 Step 1
Set supporting steel joists at 16 3/4 on center. Rest the bottom chord of the joist on a supporting wall or a beam for larger buildings.
Step 2
Install a row of concrete blocks on their faces with the open ends facing towards the sides. Rest the blocks between the 7-inch joist pairs up against each other. The steel bar joists are L-shaped so the blocks have a flange to sit on.
Step 3
Lay one row of blocks at a time. Form a continuous channel by laying the blocks on their face. Start a new row only after a row is completed.
Step 4
Position W1.7 wire in the 1/2 by 3/4-inch grooves on the top of the blocks. Bend the wire down over the joist at the end of a row. Each block is manufactured with grooves down the long side of the flat face of the block.
Step 5
Insert #5 reinforcing bars full length through the bearing end of the row between the bar joist and the end of the block.
Step 6
Mix up a mixture of 2 and a half parts sand to one part portland cement in a bucket. Make sure the grout is flowable by adding enough water.
Step 7
Pour the grout into the spaces between each row of blocks. Completely cover all the joists from one end to the other.
Step 8
Let the blocks absorb some of the grout water and then add more moisture to the top of the blocks. Pour more grout on top of the wet blocks and then spread it out with a large squeegee. Make sure to fill all the grooves to embed the wires.
Step 9
Cover the entire surface of the concrete block roof with a polyethylene sheeting and allow it to cure.