Things You'll Need
2 studs, 1½ by 3½ by 96 inches

3 studs, 1½ by 3½ by 45 inches

Clamps

5/16-inch drill bit

Drill/driver

½-inch Forstner drill bit

¼-by-3-inch lag bolts

3/8-inch socket

Ratchet

7 studs, 1½ by 3½ by 17¼ inches

Miter saw (optional)

3/8-inch drill bit

3½-inch hex bolts

Washers

Nuts

Fir plywood, 3/4 by 48 by 96 inches

1½-inch screws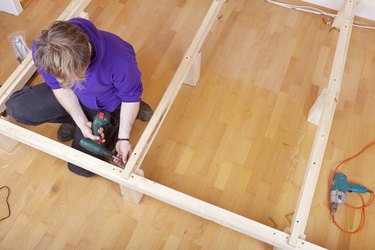 You can use wooden platforms for just about anything. Steps, displays, plant stands, equipment mounts, work spaces, even that drum riser your teenager's been asking for. Place several platforms together and you have a stage for theatrical performances. They must be sturdy and strong to hold up the goods without sagging or swaying. Build one 18 inches high, 4 feet deep and 8 feet wide to keep the cutting and labor to a minimum.
Step 1
Place two of the 1½-by-3½-by-96-inch studs parallel to each other on a flat surface, standing on edge.
Step 2
Place two 1½-by-3½-by-45-inch studs between them, flush at both ends, and one centered. Clamp the frame together using bar clamps.
Step 3
Drill two holes using a 5/16-inch drill bit and drill/driver, evenly spaced, through the 96-inch studs, to penetrate into the ends of the 45-inch studs at each contact point. Countersink another hole into each existing hole to a depth of ½-inch using a ½-inch Forstner bit.
Step 4
Insert 3-inch lag bolts into the holes. Drive the screws in with a 3/8-inch socket and ratchet to create a frame measuring 48 by 96 inches.
Step 5
Cut the seven 1½-by-3½-by-17¼-inch studs to the desired height, if needed, with a miter saw. Leave them as-is for an 18-inch tall platform.
Step 6
Place one 17¼-inch stud in each corner, with the flat side against the 96-inch studs. Place two of the 17¼-inch studs in the center corners, with one on each side of the 45-inch center stud, with the flat sides against the 96-inch studs. Place one stud centered on either side of the center stud.
Step 7
Clamp the short studs to the frame. Drill through the frame and each leg with a 3/8-inch drill bit. Make three holes for each leg, evenly spaced in a triangle pattern. Countersink to a depth of ½-inch with a ½-inch Forstner bit.
Step 8
Insert 3½-inch hex bolts in each hole. Place washers and nuts on the inside. Use the 3/8-inch socket and ratchet to tighten the bolts. Remove the clamps. Flip the frame upright on its legs.
Step 9
Place the 3/4-by-48-by-96-inch piece of fir plywood on top the frame. Screw the plywood to the frame using 1½-inch screws. Space the screws 8 inches apart, 3/4 inch from the edge around the perimeter. Center the screws through the 45-inch center support.
Tip
If your platform design is taller than 18 inches, add another 48-by-96-inch frame to the platform at the bottom for security. For platforms under 48 inches square, you typically don't need a center brace. If excessive weight is expected, double up the plywood and include four-by-four posts for legs instead of two-by-fours.
Warning
Wear eye protection when working with wood or woodworking tools.
---
Specializing in hardwood furniture, trim carpentry, cabinets, home improvement and architectural millwork, Wade Shaddy has worked in homebuilding since 1972. Shaddy has also worked as a newspaper reporter and writer, and as a contributing writer for Bicycling Magazine. Shaddy began publishing in various magazines in 1992, and published a novel, "Dark Canyon," in 2008.