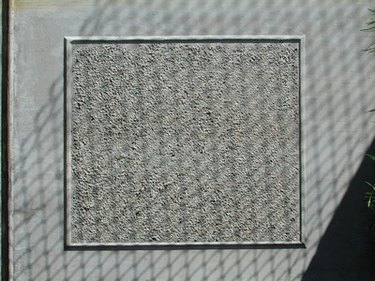 Every septic tank has at least one cover, which helps release gas but allows access to the tank for septic companies who must drain or inspect it for leaks. You can make a concrete septic cover, which offers more security and keeps animals from trying to climb inside.
Measure and Pour
Measure the top of the septic tank cover area, then use the measurement to create a frame in which to pour the concrete. The frame should be built out of aluminum or some other pliable metal that can be pried away from drying or dried concrete. Add an inch or two to the sides of the concrete cover frame so that it overlaps the top of the opening, fully covering it. Then pour thick, heavy-duty cement into the frame and smooth it out. The concrete cover should be at least an inch or two thick, so that it is sturdy, difficult to move and will survive long-term weathering.
Be sure there are spaces along the edge of the frame when you are pouring so that when it dries you can remove the cover from the frame with ease. You can add these spaces with pieces of wood or metal between the drying concrete and the frame. Allow the concrete to set for at least a day before removing it.
Handles and Installation
When the concrete has been poured and is drying, add metal handles to the wet cement so you can lift and move the cover more easily. These metal handles are ideally made out of bent steel beams like those used in construction, but they can be made out of just about any type of metal that will allow concrete to dry around it firmly.
Once the concrete has dried, use the handles to lift and carry the cover to the septic tank to make sure it fits over the opening.
Security of Cement Cover
In most cases, no one will try to remove the heavy concrete cover you have constructed for your septic system. Yet adding a metal bar across the top of the concrete with a lock may be a good idea for covers used in more sensitive areas, such as at businesses or in public locations.
A metal bar can be locked in place by attaching it to a piece of metal or chain screwed into the concrete or metal around the top of the septic system. The bar can easily be removed, allowing access to the septic tank.
---
Hailing from Austin, Texas, Daniel Westlake has written under pen names for a myriad of publications all over the nation, ranging from national magazines to local papers. He now lives in Los Angeles, Calif. but regularly travels around the country and abroad, exploring and experiencing everything he can.