Railroad ties are used in many landscaping projects, from retaining walls to borders around gardens and flower beds. Dress them up to match your outdoor design scheme and bring in added color and visual appeal to your yard. You can find them used or have them custom made from new boards.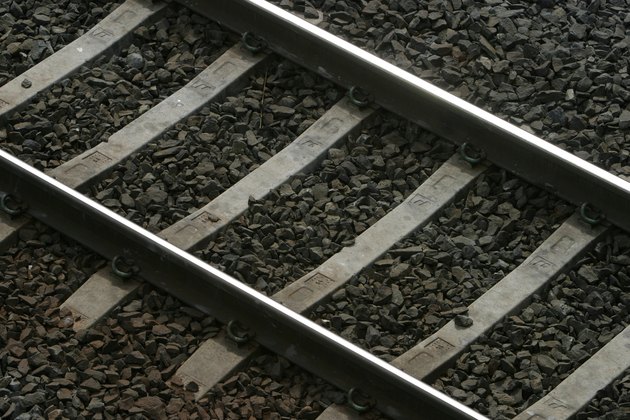 credit:
Jupiterimages/Photos.com/Getty Images
Safety Precautions for Used Railroad Ties
The wood of used railroad ties is usually treated with a product called "creosote" to help it stand up to the elements of nature and pressure forces that it experiences on the tracks. Creosote has been classified by the Environmental Protection Agency as a cancer and respiratory problem health risk. Wear gloves when handling the wood and only work on decorating outside or in another well-ventilated area. Instruct children not to play on it to reduce the risk of it getting on their skin and clothes and, in turn, ingesting it. Do not use it around vegetable gardens or in very wet areas (such as next to a pond or framing a water feature) because of the risk of contamination. Another consideration before buying authentic ties is that creosote-treated wood is almost impossible to paint, as the color will not stick to the surface.
Painting New Railroad Ties
A simple way to dress up new railroad ties (ones not treated with creosote) is through the use of paint. Clean the surface of the wood as best you can and allow it to dry thoroughly. Use a paint brush for a more crafty appeal, or a spray can for a smoother finish, and cover it in even coats. Add stencil designs of flowers and vines or other objects that match your outdoor design scheme. When decorating elements for landscaping, think of the whole picture and what it will look like next to the flowers it will be surrounding as a border or the shrubbery that is in front of it if used as a retaining wall. Apply a sealer or clear coat that is meant for outdoor use to protect the paint from the elements of nature.
Embellishments for Used or New
Nail in different decorative elements such as horseshoes or exterior iron architecture designs. Glue on garden pavers and decorative welcome stones that say things such as "Welcome to my Garden" along the side. Attach other outdoor landscaping materials, such as river rocks. Mosaic the whole thing in porcelain or glass tiles and seal it well with a clear coat meant for protecting items that are outside. Place gnomes and flower fairies, or other lawn decorations that match your exterior design theme, on the top of railroad ties to dress them up in a whimsical way.