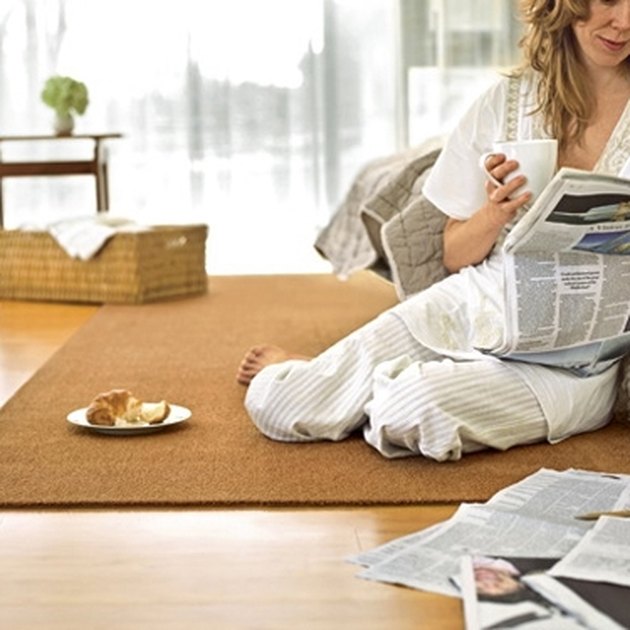 Carpet has transformed the insides of homes. Where once hardwood floors were found, there now is soft, quiet and cushioned carpets that muffle the noise. These carpets can be vacuumed to remove a lot of the dirt, but there will always be some spills or scuff marks that need to be cleaned with something more than a vacuum cleaner. For people with allergies, this can be troublesome as most of the soaps used in carpet cleaners leave behind a residue.
Use a Hypoallergenic Soap
This sounds like a no-brainer, but the challenge still remains to find this soap that is hypoallergenic. One of the old fashioned soaps used by our grandmothers is Ivory dish soap. You will find that just a drop or two in your carpet cleaner's water will be enough to cut the grease, but not enough to make it too foamy.
Use a Rinse Agent
Vinegar is a great cleaner, specifically white vinegar. It will remove any residue in the carpet and not need to be rinsed. As the carpet dries, the vinegar will dissipate and leave a clean surface. Add about 1/2 cup to the rinse water in your carpet cleaner machine. Run it through and allow it to be dispensed through the steam.
Clean Spots with an Oxidizing Agent
Hydrogen peroxide is a great stain remover with no residue. Simply pour it on the spot, allow it to bubble up and foam, and then blot it up with a clean white rag. Use a carpet cleaner over the area after spot-cleaning to remove the dirt in the surrounding carpet. The hydrogen peroxide evaporates into water and hydrogen.
Use an Extractor
Because carpet is a mass of fibers and sits on a foam base, it is very important to remove as much of the water from cleaning as possible, to keep mildew from growing in the padding. Most carpet cleaners have vacuum extraction and water is sucked up into a reservoir. Keep vacuuming the carpet until no more water is being extracted.
---
Maryland resident Heide Braley is a professional writer who contributes to a variety of websites. She has focused more than 10 years of research on botanical and garden articles and was awarded a membership to the Society of Professional Journalists. Braley has studied at Pennsylvania State University and Villanova University.