The old phrase "I don't do windows" works well if you can afford to hire cleaning help. If not, you're stuck, just like the rest of us, with cleaning your windows yourself. If you're prepared, however, with a few simple cleaning products and tools, the job won't be so bad, and your windows will soon be clean and sparkling.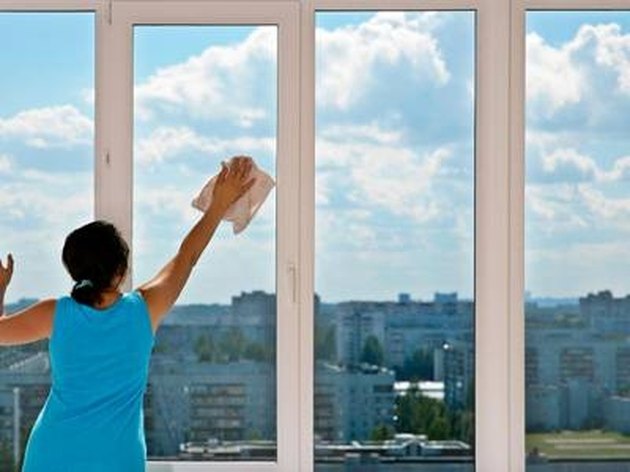 It's Not the Product, It's the Pace
The key to achieving clean windows free of streaks is to operate swiftly when cleaning the glass. Window cleaning solutions work fine, as does dish soap and water, plain ammonia or white vinegar. All of these products will do a fine job, but it you don't work quickly to scrub and dry the glass window, a streaked residue will remain.
Start by cleaning out the window track and any stray debris. Apply a generous amount of the cleaning solution of your choice with a spray bottle, and begin scrubbing with a clean dry towel. A microfiber cleaning cloth works even better, and doesn't leave any dust particles. Paper towels are what people generally reach for when cleaning their windows, but the particles from them often mars the streak-free shine.
Have an extra clean, dry towel ready to polish the window once you've scrubbed away all the dirt. Using a clean towel for this process also helps prevent streaks on your glass windows, by not reapplying the moisture from the cleaner you used. Be sure to wipe all of the moisture from the corners of the windows. If not, droplets may form and run, causing unnecessary streaks and filminess.
For a final step toward making your windows clean, streak-free and shiny, crumple up a generous-sized piece of newspaper and polish the window one last time. No additional cleaning solution or water is needed. Make sure you choose black and white newsprint. The colorful Sunday comics won't work as well. Simply rub the newspaper over the entire glass window, then sit back and admire the shine.