Using an old window frame is a simple and inexpensive way to create a home decor project that is unique to your taste and customized for your home. Start by finding an old window frame, preferably wooden.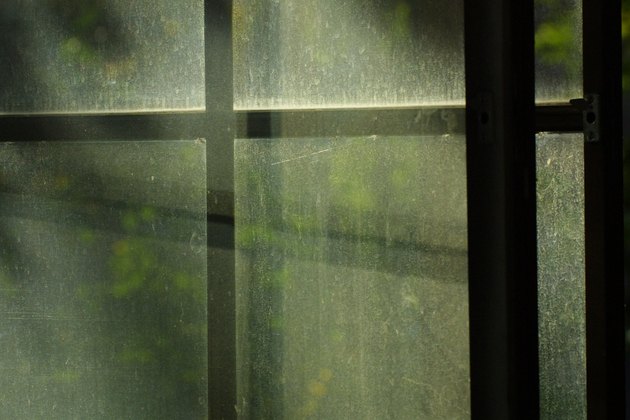 credit:
Photos.com/Photos.com/Getty Images
Finding old window frames is easier than you may first imagine. One may come from your own home when you replace older windows or look for them in dumpsters or placed on the curb. They're also sold secondhand at virtual and brick-and-mortar flea markets and antique stores.
Decide on your finish. Coat the frame with a sealant to preserve the old wood by keeping it natural without an enhanced finish. Choose a country look and carefully strip the frame of its old finish and then paint it. Always strip and paint old wood in a well-ventilated space. A crackled or speckled look enhances the country aesthetic. If you wish to have glass in your frame, clean the original glass if it's in good condition and there aren't any cracks. However, if the original glass is cracked, have a new piece of glass cut at your local hardware store.
Large window frames without any panes make easy picture frames for large pictures or pieces of artwork. Unless you're lucky to find a frame that perfectly fits your picture, have a photo mat cut at your local craft store. Multi-paned window frames are great for displaying multiple pictures or take an artistic approach by breaking up one piece into the different panes. Reinforce the frame and provide additional support for the mat and artwork by attaching a thin piece of plywood to the back.
Finish the frame and hang it as its own piece of artwork. Play up the finish to highlight the wood and trim of the old frame. Include the old window latch if that's still attached. Clean up the hardware and show off the craftsmanship that went into so many old windows.
Build a table and use the window frame as the top. The size of the window frame will determine the type of table. A larger one makes a great coffee table while a smaller window frame could be used for a side table. The window frame could serve as the top of a box-like structure on the table with a display and storage area inside or as a single table top with a shelf or nothing below.
Turn your old window frame into a mirror. Remove all of the glass and after the frame is finished have a mirror cut to fit it at your local hardware store. Amplify the effect by attaching hooks to the bottom of the mirror and hang it in the entryway or mudroom to hold coats, hats and scarves.
Make your own message board. This can vary from a cork board to a chalk board or a fabric board. Use the multiple panes as calendar-like sections, either divided by days or weeks, or as individual sections dedicated to the members of your household.