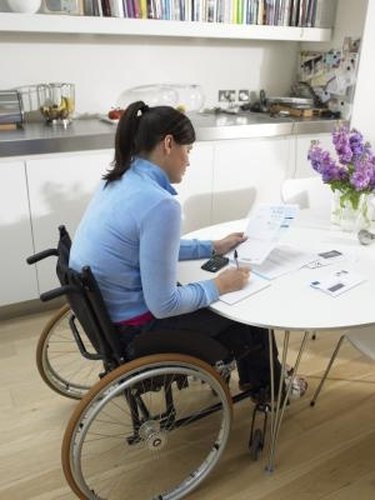 When moving into a new home, a handicapped individual must make certain that the home accommodates their needs and abilities. The type of accommodations depends on the particular handicap of the individual. For example, the accessibility requirements needed for a person bound to a wheelchair are very different from those required by someone who is visually handicapped.
Living Areas
The living rooms or family rooms in a handicapped home must allow those in a wheelchair or using a walker to have adequate space between furnishings and accessories. The hallways into and out of the room must be wide enough to accommodate the chair or walker. The floors should be a non-slip surface to prevent those using walkers from slipping and loose carpets and rugs should be eliminated to prevent tripping hazards. Keep tabletops and shelves low enough to reach easily from a wheelchair.
The visually impaired have different requirements for the living areas in their homes. Contrasting colors for walls and furnishings can help those with limited vision navigate the room more easily. Brighter lighting may also assist those whose vision is limited. Rounded corners on the furnishings reduce the risk of injury for those who cannot see.
Individuals with hearing loss may require louder telephones or lights to alert when the telephone rings. Strobe lights on smoke detectors and doorbells can alert those who would not otherwise hear the alarm or bell.
Kitchens
Lower kitchen counters aid those working in the kitchen from a chair. Appliances with front facing controls eliminate the need to stretch over a hot stove to reach the knobs. Ovens that open to the side can aid those who have difficulty bending. Use a continuous workspace on kitchen counters to allow handicapped individuals to slide heavy pots and pans across the counter instead of lifting. Levers for kitchen faucets are easier to control knobs, which is helpful for those with limited strength. A lazy Susan brings items from the deep recesses of a cabinet to the front for easy access. Pull down shelving is also more accessible to those seated in a wheelchair. A side-by-side or two-door refrigerator allows easier access to both frozen and refrigerated foods.
Contrasting borders on kitchen counters allows those with visual impairments to see where appliances and counters begin and end. Under cabinet lighting provides better illumination for those with visual impairments. Dials and knobs with larger numbers may be easier to see.
Special appliances may be necessary for those with hearing loss in the kitchen. For example, timers for stoves and microwaves that use light instead of sound assist those with hearing loss.
Bathrooms
Sinks and counters in the bathroom should be at a reachable height for those confined to a wheelchair. Roll in bathtubs with hand showers assist those who cannot stand in the shower. Allow enough space in the bathroom for the individual to transition from the wheelchair to the bathtub. Handrails assist those getting around in the bathroom. Install handrails in the shower and near the toilet to accommodate the individual. Installing a telephone in the bathroom can help handicapped individuals call for help in the event of a fall.
Brighter lighting in the bathroom can assist those with visual impairments. Use rounded corners and contrasting colors on counter-tops to help those with low vision.
All Rooms
Installing electrical outlets 27 inches above the floor helps those in wheelchairs and individuals with problems bending. The doorways in and out of the rooms should be wide enough to accommodate wheelchairs and walkers. The homeowner can eliminate thresholds for easier access, but they can still exist as long as they are ¼ inch in height or lower. Hardwood flooring or low pile carpeting with a firm carpet pad allows wheelchairs to move freely through the house. Eliminate stairs into and out of common living areas or bedrooms for handicapped persons. The home should be accessible with a ramp for access into and out of the home.
---
Luanne Kelchner works out of Daytona Beach, Florida and has been freelance writing full time since 2008. Her ghostwriting work has covered a variety of topics but mainly focuses on health and home improvement articles. Kelchner has a degree from Southern New Hampshire University in English language and literature.