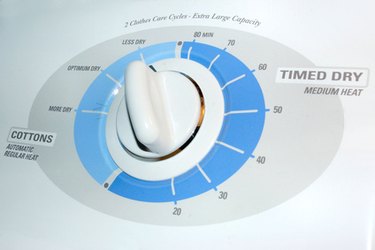 There are a number of different problems which can occur with models of Maytag dryers resulting in them not heating and drying clothes properly. A variety of parts could have broken or been worn out over the course of the time you have been using your dryer or something could just malfunction, as appliances tend to do from time to time. Check warranty information before trying to repair the Maytag dryer yourself.
Bad Heating Element
Most clothing dryers heat up and dry clothes with a heating element inside the appliance's body. Maytag dryers are no different and sometimes these heating elements break down or burn out, making the dryer cease to get hot. Make sure the dryer is unplugged and the breakers that run the dryer are switched off before inspecting so you don't electrocute yourself. The heating element is in the bottom panel of the dryer and is often a silver part which heats up when the dryer is on. Sometimes the heating element will be cracked or burned out, which means it is broken. Other times it won't look damaged but may not be working. Replace the heating element if this occurs, to see if this is the main problem.
Broken Motor
Maytag dryers have motors which turn the dryer drum, tossing the clothes so that air and heat can help dry them out completely. When the dryer drum is not turning it means there is something wrong with the motor or that the motor is not getting power. Unplug the dryer and take it apart to inspect the motor. Once you have found the motor, plug the dryer back in and use a meter to see if the motor is getting power. If it is, and isn't working, then there is something wrong with the motor and how it is operating. If the motor isn't getting power, then there is something wrong with the circuits or fuses which disperse power to the motor itself.
Bad Switch
When Maytag dryers won't tumble or heat the clothes which have been put inside of them, this means there could be a number of different things wrong. However, sometimes there's a simple solution to this problem: The switch on the door of the dryer itself may be faulty or not making the electric connection it should to allow the dryer to run. This is a cheap fix and worth troubleshooting before tearing your Maytag dryer apart. Remove the switch and inspect the two leads to make sure they haven't broken or are still transferring electricity. If they aren't you will have to replace the switch.
---
Hailing from Austin, Texas, Daniel Westlake has written under pen names for a myriad of publications all over the nation, ranging from national magazines to local papers. He now lives in Los Angeles, Calif. but regularly travels around the country and abroad, exploring and experiencing everything he can.