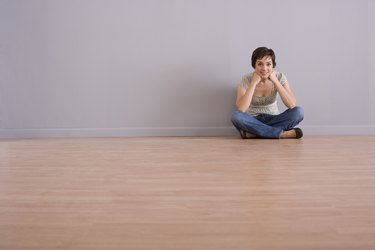 Artificial wood may be any of a variety of man-made products used in the building industry. Sometimes referred to as composite or synthetic, artificial wood products are widely accepted as a durable alternative to natural wood. Inspired by contemporary innovation, artificial wood products may contain wood byproducts or consist entirely of plastic, vinyl or aluminum.
Artificial Wood Formulas -- Composites
One type of artificial wood is made with wood byproducts and other ingredients. Sometimes referred to as a composite wood product, the formula is a concoction of plastic chips or shreds, resins, adhesives, wood chips and/or sawdust. When combined with heat and pressure, the materials bond together to create a durable material that's weather-resistant. Unlike some rough-lumber products that can deviate plus or minus 1/16 to 1/8 inch or more in their dimensions, artificial wood products are consistent, without significant deviations. The face, or outer layer of the material, is often stamped with a faux grain pattern that looks like wood. Standard artificial wood or composite wood typically comes in three colors: brown, green or tan.
Artificial Wood Properties
Artificial wood is insect resistant. It's virtually maintenance-free and can be washed off with a hose. Mold and mildew are not prone to inhabit artificial wood; if either does occur, it washes off with soap and water. Artificial wood products never need to be sanded, scraped, refinished or stained -- but stain is an option to change the color of composite wood. The maintenance-free, durable quality of artificial wood makes it a viable option to natural wood even though the initial investment for artificial wood is higher. Most artificial wood products are designed for exterior use, with built-in UV protection against fading.
Project Applications
Artificial wood is heavy; the density is part of the appeal. It's solid and resists splitting, cracking or warping. Synthetic or artificial wood cuts and mills using common woodworking tools. The uniform, consistent quality of artificial wood expedites projects. With standard lengths exceeding 16 feet, decks, fences and exterior projects go up faster. Natural boards exceeding 16 feet in length can be hard to find without variations such as warps, twists or knots. Drawbacks to artificial wood may include requirements for larger screws, brackets, fasteners and other hardware needed to support the extra weight. Artificial wood may appear industrial; it doesn't have the natural patterns, beauty and appeal of real wood.
Plastic, Vinyl and Aluminum
Plastic wood is manufactured with polyvinyl chloride or polyethylene. Plastic wood is 100 percent plastic and looks like plastic. It has a slick, shiny surface. It's doesn't require finishing. It's stain and weather resistant and won't crack, warp, or splinter. Vinyl is an artificial wood product commonly used as a wood shake or siding replacement, for fencing or other exterior building product. Vinyl is often printed or textured to resemble cedar, but more affordable than cedar. Vinyl is resistant to bugs, moisture and is available in many colors. Aluminum is also an artificial wood product. Typically used for exterior siding or cladding, aluminum is a money-saving alternative to real wood or other wood substitute. Aluminum is lightweight, easy to work with and is available with a textured surface to resemble wood grain. It's durable, low-maintenance, fire-proof and will not rot. Drawbacks include corrosion and the fact that aluminum is easy to dent or scratch.
---
Specializing in hardwood furniture, trim carpentry, cabinets, home improvement and architectural millwork, Wade Shaddy has worked in homebuilding since 1972. Shaddy has also worked as a newspaper reporter and writer, and as a contributing writer for Bicycling Magazine. Shaddy began publishing in various magazines in 1992, and published a novel, "Dark Canyon," in 2008.