The luxury of a fine bed sheet is not just for the five-star hotels. High-quality bed linen is available in a wide price range, but the cost does not guarantee superior quality. It is the raw materials --the fibers-- that determine the quality of the sheet. "Supima" and "Tencel" are fibers that are spun into threads; "MicroCotton" is a thread. All three are used in sheet production and each has its own specific qualities. High-quality fibers create the softest, most luxurious sheets and understanding what makes these fibers high-quality will help you choose the best sheets for you.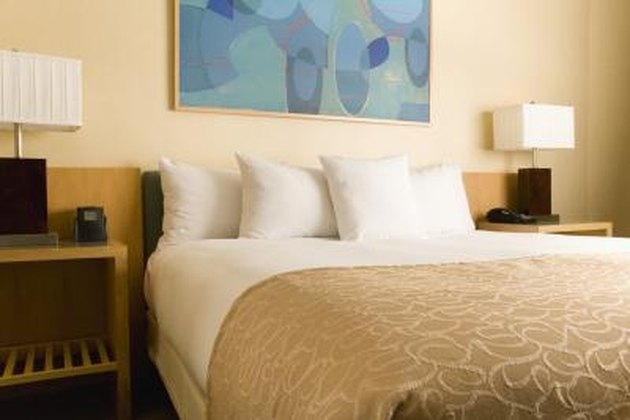 Supima is a trademark of Pima, a cotton grown in the U.S. This cotton has a long, fine, strong fiber, producing an exceptionally soft fabric. High-quality cotton is know for its resistance to pilling, its ability to absorb moisture, and remain cool on warm nights. Cotton is an environmentally friendly, renewable, resource that may be grown organically. The production of Supima cotton fabric is strictly controlled, and inferior quality cotton fibers are not blended with Supima.
Tencel is the trademark for Lyocell, a fiber produced from wood pulp. The fibers produce a soft fabric that drapes well, is resistant to wrinkles and feels cool to the touch. Tencel is shrink-resistant, durable, and retains some warmth when wet. It is more absorbent than cotton and dries quickly. Both a man-made and natural fiber, Tencel is considered environmentally sustainable. It does not take dye well and chemicals may be added which interfere with it's hypoallergenic properties.
MicroCotton is the trademark for a cotton thread made from extremely fine cotton fibers. MicroCotton dries quickly and produces little lint. Without chemicals, the process results in a very thin cotton thread which, when woven, makes super-soft, super-absorbent fabric, absorbing at a rate of 250 percent more than cotton. Originally developed for towel manufacture, the same threads produce a fabric of high luster, drapeability and durability when woven into bed linen.
Sheets made from combinations of fibers will exhibit the properties of both fibers. The Supima/Tencel sheets will exhibit the softness and resistance to pilling of both fibers. The Tencel will add durability and luster and counter the shrinkage of cotton. The cotton will add to the coolness to touch. MicroCotton is a thread made of 100 percent cotton; a MicroCotton sheet will exhibit only the properties of MicroCotton.
If super softness is the quality most desired in sheets, the Supima/Tencel would be a good choice. If absorbency and durability is more important, the MicroCotton would be the preferable choice. Both fabrics are made from high-quality ingredients and both produce exceptional sheets.