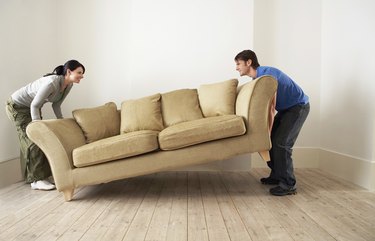 The length of a sofa is as critical an element as the color, style and material. A living room sofa to seat three people is typically about 84 inches long, but that can stretch to 90 inches or more in a large enough room. Sofas come in all shapes and sizes, including measurements for loveseats, sleeper sofas and sectionals. Your space, and the access to it via elevators, hallways and the front door, is the best determinant of the length you choose.
Ins and Outs of the Couch
A grand sofa isn't so grand when it's parked on the sidewalk because there is no way to get it into the living room. Here's what keeps that glorious stretch of sofa from its rightful place in the salon: an elevator with a lower ceiling height than the couch length; an awkward corner and door placement at the top of the stairs or an apartment building landing; a narrow entry door or room entrance with no space to angle the sofa through it. Measure about a million times before you order a custom sofa, buy one on final sale or even arrange for delivery of the floor model of your dreams. If the sofa is too long, you'll have to hire a crane or a dismantle-and-deliver service to get that couch to its home in your home. Either option will considerably increase the cost of your seating, not to mention the hassle you'll face when moving or redecorating.
Squeezing in More Seats
House Beautiful magazine quotes designer Rose Tarlow about the practical consideration of how people will use the couch. Tarlow doesn't use two cushions on any sofa, because three people will not sit on a two-cushion couch. Instead, she sticks to three cushions for sofas 84 inches or longer, and limits seating to one long cushion for sofas 60 inches or less. A "nap" sofa that's a comfortable 90 inches long, could be custom-ordered with a single supportive cushion -- that configuration does make the sofa seem more massive, so you might want to break up the expanse with lots of eye-catching throw pillows.
Customize the Size
Your small-footprint tiny house -- or tiny city apartment -- can't handle the ocean liner of a sofa that would accommodate all your friends. If you love the style but don't have the space, scale down to a two-cushion version of the three-cushion colossus. Or give it up to a loveseat and matching club chairs, or another multi-chair solution to seating. The same fix works for living rooms that become occasional guest rooms. If the king-size sleeper sofa requires more castle than you have at your disposal, settle for a full-size pull-out -- at around 72 inches, it's midway between a sofa and a loveseat -- and supplement it with an inflatable bed that stows discreetly in the back of your closet once the merry moochers decamp.
The Coffee Table Conundrum
The sofa is related to adjacent furnishings, so you need to coordinate the coffee table to the sofa length. A table has to be accessible to everyone on the sofa, but be shorter than the sofa. Allowing extra room at either end lets people enter and exit the sofa easily. Keeping the coffee table long enough means no one on the sofa has to lean precariously or get up to reach their drink or a snack. If your 90-inch sofa and a long coffee table look overwhelming, use two smaller tables or table-height ottomans topped by trays. Consider using side tables at either end of the sofa for party and entertainment surfaces. For any size sofa or loveseat, a clear acrylic coffee table creates the illusion of more space in the room while providing a handy shelf for the popcorn bowl, the cake plates or the champagne flutes.
---
Benna Crawford has been a journalist and New York-based writer since 1997. Her work has appeared in USA Today, the San Francisco Chronicle, The New York Times, and in professional journals and trade publications. Crawford has a degree in theater, is a certified Prana Yoga instructor, and writes about fitness, performing and decorative arts, culture, sports, business and education .