Rain and debris do not make a good combination around the house. If you live in a place that gets heavy rain, you know about the problems that can result when blocked gutters can't carry rain water efficiently. Those problems include damaged siding, pooling water on the ground and even foundation settling. There are several excellent design options to consider if you need a quality gutter guard system.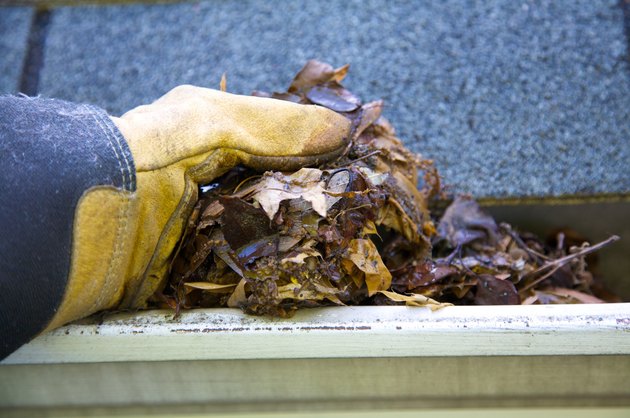 credit:
Mitch Aunger/Hemera/Getty Images
In an article on the Trinity Exteriors website entitled "How to Choose the Best Gutter Guard System", the author describes micro mesh over an extruded frame as one of the best gutter guard designs available. A micro mesh guard has microscopic holes in it so water can run through it without allowing debris and other objects to enter the gutter and block the flow of water. This type of gutter guard appeals to homeowners because it is easy to install and isn't overly expensive.
The Gutter Helmet brand of rain gutter protection has been named the best by the Renewable Energy World website. This gutter protection system is a full cover that goes over the rain gutters of your house to keep out leaves and other debris. The cover of this system hangs over the side of the gutter and has a small 3/8" slit at the edge that allows water to get in while debris falls over the side. The cover material will not stain or rust and comes with a lifetime warranty.
The Gutter Glove is built to work efficiently even when the rain is coming down at rates of over 200 inches per hour. It's made from aluminum and allows water to enter your gutters while a mesh keeps leaves and debris out. The Gutter Protection Review website recommends the Gutter Glove, noting that the aluminum used in this system is preferable to plastic and other materials. To get the best results, you should find a professional to install your Gutter Glove system and provide a warranty.
The Amerimax 85198 is a gutter guard system described as efficient and listed as the best in a press report from the Consumer Research website. This do-it-yourself system can be found at home improvement stores. You'll save money, because you won't need to hire a contractor to install it.