If the last layer of snow has melted, and what you have is a yard that is less than appealing, then you may be considering laying sod instead of reaching for a bag of lawn seed this year. A sod lawn certainly brings with it a number of benefits, including the ability to weather the wear and tear that comes with heavy traffic. It's ready to go within four to six months, which is about six months sooner than seeding your lawn.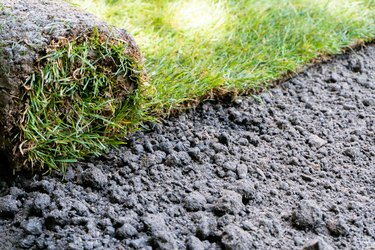 Prepare Your Yard
In order to get the most from your sod, you'll want to make sure you prep the ground in order for it to root properly. This includes tilling your soil before laying sod, taking care to add compost, lime, sulfur or any other amendments that will give your sod a solid environment for taking root. After you till your yard, level the ground with a rake and start watering the area.
Lay the Sod
Once your sod arrives, make sure to lay it right away. You can use sod anytime during the growing season between the last frost in the spring and the first hard frost in the fall, but the cool temperatures of spring and early fall paired with rain give sod the best environment for taking root.
As you lay the sod, make sure the seams don't line up. You'll want to mimic a pattern akin to the bricks on your house. Make sure joints are snug and then use a roller to eliminate air pockets that might be hanging out between the sod and soil. If you don't have one on hand, then consider renting a roller from a home improvement store to ensure the best results.
Maintain Your Sod
Once the sod is in place, you'll want to go ahead and give it a regular dose of water. In fact, you will want to soak it to the depth of about 6 inches once a day. If you notice that your sod starts to look or feel droopy and wilted, then that means it needs a bit more water. Be sure to do a daily health check.
Like any grass, you'll want to make sure you also mow regularly. But take care not to cut your sod too short and rob the grass of blades that produce the nutrients that help it grow. Regularly fertilizing the soil and dethatching the sod is also important. You'll know it's time to dethatch, or rake extra grass clippings, when the grass feels a bit bouncy as you walk on it. A heavily used lawn will also require aeration to avoid soil that becomes compacted and makes it hard to water.
---

Caroline Shannon-Karasik
Caroline Shannon-Karasik is a writer and mental health advocate based in Pittsburgh, PA. Her work has appeared in several publications, including The Cut, Tonic, Narratively, Good Housekeeping, Women's Health, Redbook and DAME. She is currently writing a collection of essays.