Many different types of swing sets exist and they use several different types of materials. You can build your own from scratch or take advantage of the many swing set kits that are available. Planning the swing set out in advance is the best way to get the most out of your swing set.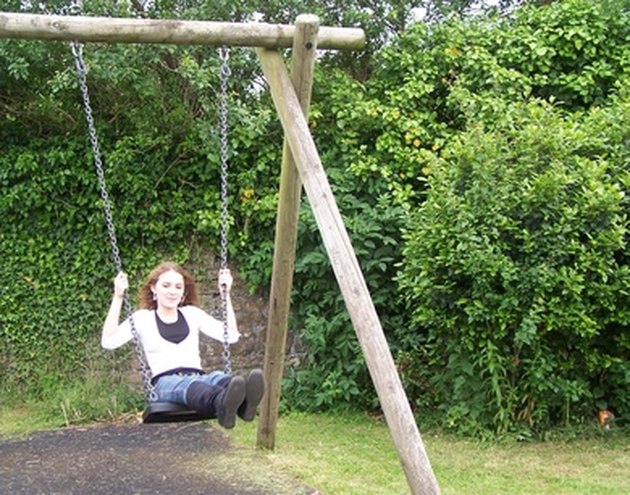 Determine what the basic frame of the swing set will be. The most basic frame is is the traditional A-frame. The two ends of the swing set are shaped like an A with a long beam running across connecting the two A's at the topmost point. More complex frames are more like tree houses or small forts. Having a sturdy and well designed basic frame will ensure that the swing set withstands any force and is safe for your children.
With the basic frame designed you can then go about adding accessories. Other options that you can add to the basic frame include extensions for tire or rope swings, monkey bars, a tower, slide, glider, or rock wall. Choosing the accessories and placement is the next step to planning the swing set. See what the basic frame can support.
Keep the space in mind when planning your swing set. Place swing sets on level ground. Measure out the level area in your yard and use these dimensions as the outer frame of the swing set.
Design a swing set that provides options as your child grows. As a child grows from a toddler he wants things to be higher and climb everything. A swing set for a toddler is very different from a swing set for a 6-year-old. However if you plan correctly you do not need to build a new swing set every couple of years. Include the ability to add height or extend the swing set every few years.
The three main materials that swing sets are made of are wood, plastic and metal. Plastic is very sturdy and many kits are available with interlocking pieces that make changing the swing set easy. Wooden swing sets are more traditional and you can make the swing set from spare lumber or buy a wooden swing set kit. It is important to use treated wood that will not splinter or rot over time. Metal swing sets are durable and will not tip over if they are anchored into the ground. Metal swing sets are resistant to rust and are made to last. One material is not necessarily better than another, but they will have varying costs. See what is available in your area and which material best fits your swing set budget.