Granite Ware, manufactured by Columbian Home Products, is a line of stockpots and other cookware made of carbon steel covered with porcelain, usually in a distinctive dark blue color with lighter-colored flecks. Columbian also markets an eponymous line of similar stockpots with glass lids instead of metal lids, which is occasionally sold as "Granite Ware" online and in stores.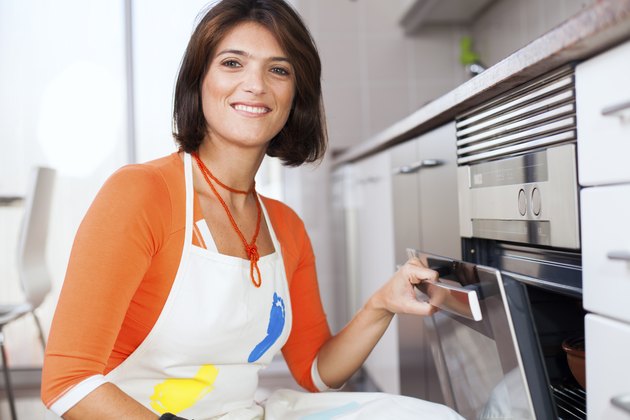 credit:
hjalmeida/iStock/Getty Images
Oven Safety of Granite Ware
Granite Ware 4-quart, 8-quart and 16-quart stockpots with the model numbers F6121-4, F6137-2 and F6124-2 are oven safe to 450 degrees Fahrenheit. These stockpots can be identified by the porcelain-covered steel lids in the same style and color as the pot. Both pot and lid are a dark blue-black with tiny, light-colored flecks all over. The stockpots and lids are also dishwasher safe.
Oven Safety of Columbian Stock Pots
Columbian 4-quart, 8-quart and 16-quart stockpots with the model numbers F0474-2, F0475-2 and F0476-2 are sometimes marketed under the Granite Ware name. These stock pots are not listed by the manufacturer as being oven-safe, though they are dishwasher safe. The Columbian stock pots have a glass lid that could crack in the heat of an oven. The pots themselves are porcelain-covered steel with a stainless steel rim. They come in solid black, cream and blue colors with no flecks.
Granite Ware stock pots and other cookware is made from a stainless steel base. The steel is coated with colored porcelain at temperatures exceeding 2,000 degrees Fahrenheit, so the coating is essentially made of glass. The porcelain coating is produced by melting sand, which the manufacturer claims makes it a sustainable, eco-friendly product. The surface is inert and does not interact with food even at high temperatures. It also reduces sticking, though not truly a nonstick surface.
History of the Granite Ware Brand
Columbia Home Products was founded in 1871 as the Bellaire Stamping Co., selling metal cookware and other housewares products. It began enameling its cookware in 1891 and selling it as Columbian Enameled Steel Ware in 1893 as a marketing campaign to take advantage of the heavily attended and widely publicized Chicago's World's Columbian Exposition that year. During World War I, the company made helmets for soldiers, but always returned to producing the popular Granite Ware cookware line.